Phone Trick Colt Brings $400,000 at OBSC Sale
by Deirdre B. Biles
Date Posted: 3/20/2002 2:48:14 PM
Last Updated: 3/21/2002 12:26:51 PM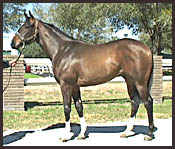 This son of Phone Trick was sold for $400,000 at the OBSC March sale.


A juvenile son of Phone Trick was purchased by Canadian veterinarian Robert McMartin on behalf of Eugene Melnyk for $400,000 to top Wednesday's second session of the Ocala Breeders' Sales Company's March select juvenile auction.The colt, produced from the Mount Hagen mare Chattahoochee, was consigned by Hartley/DeRenzo. Bred in Kentucky by Dr. and Mrs. A. Gary Lavin, the colt was a May foal who had been previously purchased by Alli-Kat Enterprises for $90,000 from the Lavins' Longfield farm consignment to the 2001 Keeneland September yearling sale."I think they got a great buy," said Dean DeRenzoi. "This is a very, very athletic colt at this stage of his life. I think this colt will mature up and be that much better. We have not actually seen his potential yet."California trainer Bob Hess Sr., representing Fog City Stable, was the immediate underbidder on the Phone Trick colt.Melnyk paid an OBSC record price of $1,050,000 at last year's OBSC March sale when he acquired Warners from the Hartley/DeRenzo consignment. The price paid for the stakes-placed runner was also the highest for any 2-year-old sold at public auction in the U.S. last year.During Monday's first session, Southern Image, a son of Halo's Image, went for $300,000 to California trainer Michael Machowsky on Tuesday. He was consigned by Arthur I. Appleton's Bridlewood Farm. The immediate underbidder was New Jersey bloodstock agent Buzz Chace.It's been a big year, so far, for Bridlewood, which bred the daughter of Stormy Atlantic that brought $1.9 million at the Barretts March select sale, setting a world record for a juvenile filly sold at public auction. However, Bridlewood was not her Barretts consignor, having sold the filly for $31,000 at the 2001 Keeneland September yearling sale through Taylor Made Sales Agency.Bridlewood's OBS session topper was produced from the 7-year-old unraced Dixieland Band mare Pleasant Dixie. Southern Image's second dam, Pleasant Jolie (by Pleasant Colony) was a stakes winner. His third dam, Jolie Jolie (by Sir Ivor) produced multiple grade I winner Jolie's Halo."He was a very good walker, very loose," Machowsky said. "He looks like a horse that wants to run a mile; he's definitely a two-turn horse. And he went :10 2/5 (during an under tack show on March 10) like it was nothing. A horse that looks like him and acts like him is supposed to do that. If he can carry on what he's shown us here, we should have a nice horse next year, or later this year. We'll give him a little time, but we won't rush into anything. I would like to shoot for Del Mar with him."Machowsky said he was acting on the behalf of a partnership that includes Allen Tepper and his son, Josh, and two other individuals. The elder Tepper, who lives in California, and his son, who lives in the Chicago area, are newcomers to the Thoroughbred business. They own one other horse. The Teppers got involved in the sport "for the excitement," said Josh Tepper, who sat beside Machowsky during the bidding. Allen Tepper has a medical management company, and Josh Tepper is a marketing manager."I've done a lot (of buying in Ocala in the past)," Machowsky said. "This is the most expensive horse I've ever bought here. I've kind of ground my way out here buying horses for different clients."In all, 98 horses were sold on Tuesday for a gross of $6,255,000 and an average of $63,827. The median was $50,000. Compared to last year's first session, the number sold, gross and median were down by 9.3%, 9.0%, and 7.4%, respectively. The average was up by less than one percent. Five horses brought prices of $200,000 or more compared to two last year. This year's buy-back rate was 39.1%, with 63 of the 161 horses offered failing to find new homes."It's about the same story as last year," said Tom Ventura, the OBS director of sales and general manager. "In tomorrow's session, as a group, I think we have a few more of the upper end horses because of the way the catalogue shook out and the horses performed."Trainer Patrick Biancone, a member of the powerful Coolmore Stud team, was seen cruising the pavilion late in the day, but his name did not appear on a sale ticket.More, OBSC



Copyright © 2015 The Blood-Horse, Inc. All Rights Reserved.