Forbidden Apple Honored as Florida's 2001 Horse of the Year
by Deirdre B. Biles
Date Posted: 3/18/2002 10:44:51 PM
Last Updated: 3/21/2002 6:33:21 PM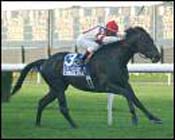 Kelso winner Forbidden Apple was voted Florida Horse of the Year for 2001.


Arthur I. Appleton's homebred Forbidden Apple was honored as Florida's 2001 Horse of the Year during the Florida Thoroughbred Breeders' and Owners' annual awards dinner and ceremony in Ocala Monday night. The 7-year-old son of Pleasant Colony also was recognized as the state's champion older male and champion turf horse, while his dam, North of Eden (by Northfields), received the Florida Broodmare of the Year award.Forbidden Apple captured the Manhattan (gr. IT) and Kelso (gr. IIT) Handicaps last year and finished second in the Breeders' Cup Mile (gr. IT). He is trained by Christophe Clement. George Isaacs, the general manager of Appleton's Bridlewood Farm, said Forbidden Apple was about to leave Bridlewood to return to the racetrack and would try to make it back to the Breeders' Cup this year.Michael O'Farrell of Ocala Stud Farms received a standing ovation when he was presented with the Bruce Campbell Award, which honors individuals or organizations that have brought honor and recognition to Florida's Thoroughbred industry."It's been a tough few weeks, and I appreciate things like this," O'Farrell said. A recent fire at Ocala Stud destroyed a barn and killed a number of horses.Notebook, who stands at Ocala Stud, received the Florida Stallion of the Year award. The 17-year-old son of Well Decorated led all Florida-based stallions in 2001 with progeny earnings of more than $4.1 million."Talk about humble beginnings," O'Farrell said. "I bought Notebook at Keeneland for $100,000. The problem was I didn't have the money. So I came back to Ocala, and I sold shares for $4,000--$2,000 down and a year of free board, no expenses, and $2,000 the next year, no interest due. I got 30 shares sold and paid for the horse. So I would like to thank all the initial shareholders."Harry T. Mangurian Jr. was honored for the fourth consecutive year as Florida's Breeder of the Year. Mangurian was the leading breeder by earnings in North America from 1999 through 2001. He sold his Mockingbird Farm late last year and dispersed most of his stock. He received a 2001 Eclipse Award of Merit."It's very sad to see it all coming to an end, but it's been a great ride," said Mark Casse, who served as Mockingbird's general manager. "It's been a great ride, and we'll miss him (Mangurian)."Also honored were Nany's Sweep, champion older female; Booklet, champion 2-year-old male; Smok'n Frolic, champion 2-year-old filly; Outofthebox, champion 3-year-old male; Stormy Pick, champion 3-year-old filly; and Delaware Township, champion sprinter.John Franks was recognized as the leading owner of by Florida-bred earnings, and Harry and Louise Bono received the Joe O'Farrell Memorial Award as the consignors of the best Florida-bred racehorse offered at public auction in Florida, Delaware Township. The Ocala Breeders' Sales Company presented the O'Farrell Award."We want to accept this award for all the small breeders who have a dream," said Louise Bono. The Bonos sold Delaware Township for only $8,000 at the 1996 OBS fall mixed auction through Summerfield Sales.Fred and Jane Brei's Jacks Or Better Farm was honored with the Needles Award for outstanding accomplishments by a small breeder. Jacks Or Better bred four Florida-bred stakes winners of 2001, and the nursery's Florida-bred runners earned more than $700,000 last year.Montbrook, who stands at Ocala Stud, was recognized as the leading Florida sire of 2-year-olds. Bay Street Dancer was the Florida-bred Claiming Horse of the Year. Ralph Ziadie was the leading Florida trainer of Florida-breds by earnings. Eddie Plesa was the leading Florida trainer of Florida-breds by stakes wins. And Emanuel Tortora was the leading Florida trainer of Florida-breds by wins.



Copyright © 2015 The Blood-Horse, Inc. All Rights Reserved.