Kentucky Gaming Bill Advances; House Vote Next
by Tom LaMarra
Date Posted: 3/18/2002 5:31:27 PM
Last Updated: 3/20/2002 8:48:27 AM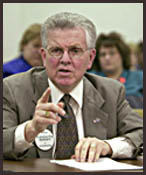 Kentucky Rep. Jim Callahan, sponsor of gaming legislation.
Photo: Associated Press

Legislation to authorize electronic gaming devices at Kentucky's eight racetracks cleared the House Licensing and Occupations Committee by a 9-5 vote March 18 and now heads to the full House. When the bill may be heard, though, remains to be seen.Several key amendments to the bill were approved during the mid-afternoon hearing in the state capital, including one that puts a proposed Gaming Commission under the auspices of the Kentucky Lottery Corp. Rep. Jim Callahan, the bill's sponsor, met with Arch Gleason, president and chief executive officer of the Kentucky Lottery, on March 16.Gleason, who helped implement the "Mountaineer Magic" video lottery terminal experiment when he was in charge of the West Virginia Lottery in 1989-1990, said he now supports the Kentucky bill. "I'm in full agreement with the proposed amendments," he said during the committee hearing.Other amendments adopted during the two-hour hearing prohibit use of credit cards or debit cards for EGD gambling; clarify that a racetrack cannot change its primary breed of live racing after Jan. 1, 2002, and still qualify for EGDs; make all records of the Gaming Commission open to public inspection; and require that the Kentucky Racing Commission, Kentucky Lottery, Gaming Commission, and Department of Charitable Gaming establish a unified approach for prevention and treatment of problem gambling.Some Standardbred purse splits also were changed. Breed development will now get 20% of revenue instead of 10%, and the Kentucky Colt Racing Association, which offers harness racing at fairs, will get 5% of revenue.Callahan said the earliest the measure could go before the full House is March 21, though that seems unlikely; a revised bill containing the amendments hadn't even been drawn up for the March 18 hearing. He said he'd like to know he has 20 positive votes in the Senate, and 51 in the House, before the bill makes it to the floor.The Lottery Corp.'s involvement is viewed by some legislators as a bonus. The Rev. Nancy Jo Kemper, executive director of the Kentucky Council of Churches, disagrees. Kemper had signed up to address the Licensing and Occupations Committee but ended up not speaking."I'm too stunned by the swiftness of these (amendments) and need time to read it," she said. In comments made to the press after the hearing, she said: "There are helpful and progressive ways to raise money for the state. By taking the lottery in, the state will become the biggest exploiter of its citizens."Rep. Paul Marcotte said the revised document "is a better bill than it was a week ago," but he still voted against its passage. Marcotte singled out Turfway Park as a cause for concern, but suggested a task force be formed to "come up with other incentives for the racing industry."Rep. Jon Draud said his affirmative vote was "the easiest decision I've had to make. I'm astounded the committee can't realize how important this is to Kentucky. Where's the money (for programs) going to come from? To me, it's a simple business decision. It's a no-brainer."Callahan already has circulated a proposal on how the state could spend the projected $350 million a year it could make from EGD revenue. Education would get 40%, public projects 25%, the state's general fund 15%, prescription drugs for seniors 7%, health and human services 7%, and environmental programs 6%.Not surprisingly, a January poll conducted on behalf of Churchill Downs indicates that a majority of Kentuckians support alternative gaming at tracks only if revenue is earmarked for public-friendly projects.The results of the poll of 1,000 voters were released the week of March 11. They show that, when asked only about racetrack electronic gaming devices, 56% were opposed. When told revenue from EGDs would support social services and the state budget, 75% were in favor.



Copyright © 2015 The Blood-Horse, Inc. All Rights Reserved.