Florida Derby Report: Work Takes a Holiday
by Scott Davis
Date Posted: 3/16/2002 6:33:11 PM
Last Updated: 3/19/2002 4:21:53 PM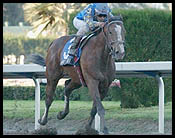 Edgar Prado guides Harlan's Holiday to victory in the Florida Derby.
Photo: Equi-Photo/ Bill Denver

Published in the March 23 issue of The Blood-Horse
The defining moment of Harlan's Holiday's 3 1/2-length romp in Gulfstream's March 16 Florida Derby (gr. I) came not when the colt inhaled rival Booklet rounding the far turn, nor when trainer Kenny McPeek, holding daughter Jenna in his arms, strode into the Gulfstream winner's circle hand-in-hand with his wife, Sue. Instead, it came while owners Jack and Laurie Wolf of Starlight Stable humored the crowd in the post-race press conference and the trainer stood off to the side, intently watching a simulcast of a claiming race from Turfway Park in which his runners would finish first and second. "It takes work and work and more work to get to a point like this," said the 39-year-old trainer. McPeek can not only boast of having a pair of top Kentucky Derby (gr. I) prospects in his barn--Repent is the other--but also a leading 3-year-old filly in Take Charge Lady. "The last couple of years we've been really focusing on developing quality young horses, though, and that's what has brought us here." Harlan's Holiday's past performances are a model of consistency, with five wins and four seconds from nine starts. However, the trainer realized he had a lot of work to do with him after last season. Following a pair of wins in state-bred races in Ohio that McPeek felt taught him how to win, the colt scored his first time around two turns in the Miller Genuine Draft Cradle Stakes. He then ran into Siphonic in the Lane's End Breeders' Futurity (gr. II) and, although finishing a credible second, Harlan's Holiday was losing ground late. "That race terrorized me," McPeek said. "To win big races as a 3-year-old I knew we had to develop habits to get him to keep going. We couldn't allow him to get into the habit of not kicking late." So, for his 2002 debut in the Holy Bull Stakes (gr. III), McPeek cut in half the blinkers that Harlan's Holiday had regularly worn. This time out, he was gaining late, but he still missed by three-quarters of a length to Booklet. The blinkers were gone for the Fountain of Youth (gr. I) and the losing margin was a nose. The trainer could see Harlan's Holiday was improving but felt he might need just a little push to overtake his rival. "There's a lot of money on the table and I don't want to leave any of it," McPeek said when he replaced Tony D'Amico in the irons with Gulfstream's leading rider Edgar Prado. Though confident the jockey switch coupled with the extra sixteenth-mile would be enough, McPeek was enthusiastic when he learned Michael Tabor's latest 3-year-old purchase, Smooth Jazz, would be in the Florida Derby field. Even while his trainer Todd Pletcher recoiled upon hearing the "R" word--"He should show tactical speed, but he is not a rabbit," Pletcher insisted--McPeek knew the undefeated son of Storm Boot would provide Booklet with all the pressure he could handle on the front end. But just how much pressure neither he nor Booklet's trainer John Ward Jr. could have guessed. Adamant before the race that his tiny colt would be able to rate, it was Ward who was terrorized by watching his rider Jorge Chavez engage in a suicidal duel with Smooth Jazz. The two colts were in lockstep through some of the fastest fractions the Florida Derby had ever seen, blistering through opening fractions of :22.47 and :45.36. It was a scorched earth policy that separated Booklet and Smooth Jazz by as many as six lengths from their nine challengers, and left Chavez to later complain that Smooth Jazz' jockey Mark Guidry was "riding my horse instead of his." McPeek, though not focused on the splits, could see how relaxed Harlan's Holiday was while sitting in fourth place. He watched as Prado picked up the reins inside the five-eighths pole and angled outside of Monthir, gliding closer to the pacesetters with every stride. Three furlongs from home, Booklet had finally shaken clear of Smooth Jazz but, weary from the battle, could not respond when Harlan's Holiday approached. John Oxley's colt, who had dug in so stubbornly in his last two outings, refusing to let Harlan's Holiday past, was cooked. "Mr. Oxley and I agreed that if we told Jorge to rate the horse and he finishes fourth we'd be kicking ourselves," Ward said later, adding with a touch of disgust he recommended Starlight Stable buy Smooth Jazz to keep Harlan's Holiday company. Nobody, though, was keeping Harlan's Holiday company through the stretch run and he strode to the wire leaving Blue Burner and Peekskill to argue over the minor awards. In the :38.48 in which Harlan's Holiday completed the final three furlongs after blowing by Booklet--interestingly the same exact time as it took Monarchos during his similarly won Florida Derby last year--no one was able to cut into his lead. At the wire, the timer read 1:48.80, and the field of largely Triple Crown pretenders was strung out like pearls on a poor lady's necklace. "Those last two races were key," McPeek said of his colt's progress through his 3-year-old campaign. "He wasn't prepared before to do what he did today. I knew once he collared those horses on the turn, he was home free. At this point, I almost feel like he's part machine, and the scary thing is I think he has more peaking to do." If McPeek was daunted at the prospect of having two of the top contenders for the Kentucky Derby (gr. I) in his barn, he was showing no signs. While the owners lauded bloodstock agent Barry Berkelhammer for selecting and breaking the colt, Jack Wolf laughed at "how ridiculous it is" to be in such a position with one of the first horses he ever owned. McPeek, after watching the Turfway simulcast, started answering the questions on everyone's lips. "He and Repent are very different types of horses," he said of Harlan's Holiday and the winner of the Louisiana Derby (gr. II). "Harlan is at somewhat of an advantage because he has a little more tactical speed. He may actually be the better of the two horses at this stage." McPeek went on to describe a trio of races--the Toyota Blue Grass Stakes (gr. I), Illinois Derby (gr. II), and Wood Memorial (gr. I)--as the choices for his colts' next preps, noting he would keep them separated. While saying he had trouble believing the position he now finds himself in, McPeek's comportment belied that, testifying instead to the hours of toiling patiently, waiting for such an opportunity. Back at his barn the following morning, McPeek knew, despite the resounding win, each of his colts would require more lessons and more work to give him the classic win he has so desperately sought since Tejano Run's runner-up finish in the 1995 Kentucky Derby (gr. I). For McPeek, like everyone else, saw the teasing banner that flew above Gulfstream: "Happy Saint Patrick's Day from Johannesburg," it read. "Hope to see you on May 4." (Chart, Equibase)



Copyright © 2015 The Blood-Horse, Inc. All Rights Reserved.