Welker's Undrafted Aimed for Newmarket Race
by Blood-Horse Staff
Date Posted: 6/9/2014 4:16:59 PM
Last Updated: 6/10/2014 11:15:27 AM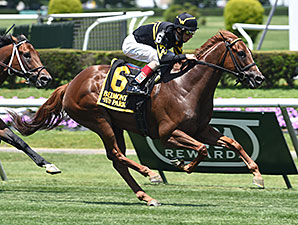 Undrafted won the 2014 Jaipur Invitational Stakes.
Order This Photo
Photo: Coglianese Photos
Undrafted is so named because Welker, a star with the Denver Broncos, was initially not selected at the pre-season NFL draft despite having a successful college football career.
"It's going to be a big adventure and we know that we are taking on a big task across the pond but Undrafted is an extremely sound horse with no physical issues and everything looks golden for us to go over with a big chance of winning," the trainer continued. "We plan to ship him over to England as close to the race as possible, and it is such a peaceful and tranquil place I am sure that it will suit him."
Copyright © 2015 The Blood-Horse, Inc. All Rights Reserved.