MRLS Mess
by Ray Paulick
Date Posted: 3/12/2002 1:23:07 PM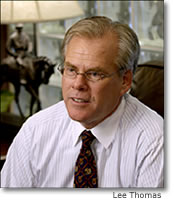 Ray Paulick
Editor-in-Chief


The early numbers from The Jockey Club reported only confirm what everyone already should have known: Mare reproductive loss syndrome will have a serious economic impact on breeders and Kentucky's Thoroughbred industry. The live foal count for the first nine weeks of 2002 is down 930 from 2001. That's 930 stud fees that won't be paid, 930 foals that won't need to be fed or cared for by farm employees and veterinarians. The 2003 yearling sales will have fewer young horses available, and racing secretaries in 2004 and beyond will have fewer horses in training to help fill their cards. Remember, these losses are just the beginning. The number cited above is only through March 5. The most frustrating thing for breeders is that no one can say with certainty why so many mares aborted their 2002 foals, or what caused 500 foals of 2001 to die at birth. Nor has the mystery been solved of why horses developed other health problems, ranging from pericarditis, uveitis, and laminitis. It isn't for lack of trying. A group of veterinarians and researchers, each with his or her own opinion as to the cause of MRLS, presented their hypotheses during a meeting of the Kentucky Association of Equine Practitioners on March 7. The potential culprits included mycotoxins, cherry trees and caterpillars, hemlock, and electrolyte imbalances. The one constant in nearly every hypothesis was the extremely unusual spring weather last year that included drought and unseasonably warm temperatures, followed by a hard, mid-April freeze. One certainty is that no one can do anything about the weather. However, there are some things breeders and farm managers can do: eradicate hemlock, often found along fence lines or near creek beds; cut down black cherry trees; and eliminate the Eastern tent caterpillar population before it becomes a problem. Dr. Thomas Swerczek of the University of Kentucky's department of veterinary science suggested horse owners take some additional steps. Swerczek, the former pathologist at the university's diagnostic lab who by his own admission has autopsied more horses and fetuses than anyone in the world, presented the hypothesis that MRLS resulted from an electrolyte imbalance. The imbalance, Swerczek said, occurs when the potassium and chloride levels in certain forage (orchard grass, fescue, and white clover) spike to dangerously high levels, and horses are not getting enough sodium from salt to maintain a healthy balance of the minerals. The electrolyte imbalance causes a massive buildup of fluids in the horse, Swerczek said. High potassium levels were found in eye fluid of some of the autopsied foals who died last year, he added. Swerczek has suggested the following steps: add lime to fields; put plenty of salt out (loose salt is preferred to salt blocks, Swerczek said); keep hay in front of horses, particularly after a frost; and make sure horses have access to fresh water. According to Swerczek, weather patterns in 2001 were very similar to 1979, 1980, and 1981, when a larger than usual number of Central Kentucky horses suffered abortions and problem births. Swerczek also said a Florida farm had heavy fetal losses in 2000 when a hard freeze hit the Ocala area. Last December, after Central Kentucky's weather shifted from unseasonably warm temperatures to a hard freeze, Swerczek discovered an alarmingly high potassium-to-sodium ratio of 12-to-1 in some fields along with an increase in the amount of chloride. Can the electrolyte imbalance definitely be pinpointed as the cause of MRLS? No, but neither can mycotoxins, cherry trees, tent caterpillars, or hemlock. But the various measures that horse owners can take should provide a degree of comfort while veterinarians and researchers continue their efforts to solve the mystery.



Copyright © 2015 The Blood-Horse, Inc. All Rights Reserved.