Cigar Among Nominees for Hall of Fame
Date Posted: 3/12/2002 9:46:51 AM
Last Updated: 3/13/2002 12:44:04 PM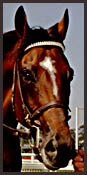 Two-time Horse of the Year Cigar, nominated to racing's Hall of Fame.
Photo: AP/Reed Saxon

Cigar, the two-time Horse of the Year (1995-96) who won 16 consecutive races, is among the three horses nominated to the National Museum of Racing's Hall of Fame in the Contemporary Male Horse category. The nominees for all five categories were released March 12, and the winners will be announced April 30 at Churchill Downs.The Hall of Fame induction ceremony will be held at the Fasig-Tipton Sale Pavilion in Saratoga Springs, N.Y., Aug. 5.Here is the complete list of nominees by category:Contemporary Male Horse: Ancient Title, Cigar, and Precisionist.Contemporary Female Horse: Dance Smartly, Flawlessly, and Serena's Song.Jockeys: Kent Desormeaux, Eddie Maple, and Jack Westrope.Trainers: Buddy Delp, Sonny Hine, and Mel Stute.Horse of Yesteryear: Morvich, Noor, and Swoon's Son.A 14-member committee selected the nominees. More than 140 Thoroughbred racing journalists and historians will vote.For contemporary horses, Hall of Fame eligibility begins when five calendar years have passed since a horse's last race.Allen Paulson's Cigar was retired at age six in 1996 after his second Horse of the Year campaign. He established record earnings of $9,999,815, and won 19 of his 33 races. Cigar had a perfect record of 10 wins in 10 starts in 1995, and the next year won the first Dubai World Cup. He stretched his win streak to 16 and matched the modern Northern American mark set by Citation.Ancient Title and Precisionist both were based on the West Coast but, like Cigar, scored major victories in the East as well.Kirkland Stable's Ancient Title won 20 stakes through age eight, including the Strub Series at Santa Anita: the Malibu, San Fernando, and Strub. Ancient Title and Precisionist are among only five horses to sweep that series. Ancient Title won the Whitney Stakes at Saratoga, and had a career record of 24 victories from 57 starts for earnings of $1,252,791 during the 1970s.Fred Hooper's Precisionist was voted champion sprinter of 1985, the year he won the Breeders' Cup Sprint at Aqueduct, but his other five grade I victories came at one mile to 1 1/4 miles. Precisionist won 20 of 46 races and earned $3,485,398.The Contemporary Filly and Mare category includes Sam-Son Farm's Canadian-bred Dance Smartly, and the filly that surpassed her as the all-time North American distaff leader in earnings, Serena's Song. Dance Smartly won Canada's Triple Crown and Molson Export Million in 1991, the year she also won the Breeders' Cup Distaff. She was voted Horse of the Year in her homeland and champion 3-year-old filly in the United States. Dance Smartly won 12 of her 17 races and earned $3,263,836.The earnings record was topped by Robert and Beverly Lewis's Serena's Song, the champion 3-year-old filly of 1995. Serena's Song, who had a career record of $3,283,388 with 18 victories in 38 races, challenged males several times in major races and defeated them in the Jim Beam Stakes and Haskell Invitational. Her other major victories included the Santa Anita Oaks, Mother Goose, and Beldame Stakes.Also nominated is Harbor View Farm's Flawlessly, who reigned in consecutive years (1992-93) as champion turf female. In addition to winning the Beverly D., Flawlessly won a pair of top turf races--the Matriarch and Ramona Handicaps--three times in succession. She won 16 of 28 races and earned $2,572,536.Nominated in the Horse of Yesteryear category (for horses that last raced more than 25 years ago) is Benjamin Block's Morvich, the first California-bred to win the Kentucky Derby. When he won the Derby in his first start of 1922, he was unbeaten in a career of 12 races. Morvich never won another race and was retired with a record of 12 wins in 16 races and earnings of $172,909.Charles Howard's Noor, champion older male of 1950, was renowned for his four consecutive victories over the great Citation. Irish-bred Noor had a career record of 12 victories in 31 races in Europe and North America and earned $394,863.The third nominee, E. Gay Drake's Swoon's Son, campaigned inthe 1950s, primarily in the Midwest. Swoon's Son won 30 of 51 races and earned $970,605. In his many stakes triumphs, he owned victories over champions Round Table, Needles, and Nearctic.Hall of Fame eligibility criteria for jockeys requires at least 15 years of action.Kent Desormeaux was the Eclipse Award winning apprentice of 1987, and has since won two additional Eclipse Awards for riding excellence. He holds the record for number of wins in a year--598--and was the national leader in wins for three consecutive years. He also has led riders in earnings once and has two Kentucky Derby victories. Through 2001, Desormeaux had won 4,159 races, and his mounts had earned $156 million.Eddie Maple, who retired in 1998, won two runnings of the Belmont Stakes, on Temperence Hill (1980) and Creme Fraiche (1995). He also rode the great Secretariat in the last race of that champion's career, the Canadian International at Woodbine in 1973. Other champions ridden by Maple included Conquistador Cielo, Devil's Bag, and Foolish Pleasure. Maple won 4,398 races from 1965 through 1998 and earned $105 million.Jack Westrope was the nation's leading apprentice at age 15 in 1933, when he rode 301 winners. By the time of his death in a riding accident in 1958, Westrope had won 2,467 races and ranked eighth among 20th century North American jockeys in wins to that date. Among Westrope's most notable victories were Stagehand's defeat of Seabiscuit in the Santa Anita Handicap, Cravat's victories in the Suburban Handicap and San Juan Capistrano, and Parlo's Delaware Oaks triumph.Trainers are eligible for Hall of Fame nomination when they have been head trainers in Thoroughbred racing for at least 25 years.Buddy Delp is known as trainer of 1979 Kentucky Derby and Preakness Stakes winner Spectacular Bid, whom he conditioned to an unbeaten 4-year-old season as Horse of the Year in 1980. Delp has won stakes with 68 different horses, and his most recent major campaigner, Include, won the Pimlico Special and three other important races in 2001. Delp trained his first winner in 1962 and has won 3,533 races for earnings of more than $37 million.The late Sonny Hine was best known as trainer of wife Carolyn Hine's Skip Away, the Horse of the Year in 1998 and an Eclipse Award winner for three consecutive seasons. Skip Away earned $9.6 million, and his portfolio of top quality races included the Breeders' Cup Classic and the Jockey Club Gold Cup. Hine also had trained his sire, Skip Trial, among the 46 individual horses with which he won stakes. Hine won his first stakes in 1972 and had more than 400 wins prior to the availability of The Jockey Club Information System's present statistical compilation. Since 1976, he won 897 races and earned more than $28 million.Mel Stute has been a mainstay in California for most of his career, but toured the nation in 1986 and won the Preakness and Florida Derby with champion 3-year-old Snow Chief. That same year, Stute had a second champion in the 2-year-old filly Brave Raj, who provided him with one of the two Breeders' Cup victories in his career. Stute, who continues to train, had his first winner at Portland Meadows in 1947. He has won stakes with 94 horses, and available statistics show 1,759 winners since 1963. His runners earned just under $50 million from1963 through 2001.



Copyright © 2015 The Blood-Horse, Inc. All Rights Reserved.