Smith Outlines Strategic Goals for NTRA's Phase Two
by Ray Paulick
Date Posted: 3/11/2002 8:41:00 PM
Last Updated: 3/13/2002 5:54:33 AM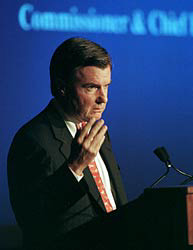 NTRA commissioner Tim Smith.


Tim Smith, commissioner of the National Thoroughbred Racing Association, said in opening remarks of the fourth annual NTRA Marketing Summit that horse racing's national office will narrow its focus as it enters the initial stages of what he called "phase two," which has new strategic goals.Smith said the NTRA's mission remains unchanged -- to increase racing's popularity and improve its economic conditions. He listed five phase two priorities: a refocusing on primary marketing programs; lobbying in Washington, D.C., and in state capitals when industry unity exists on specific issues; building the Breeders' Cup World Thoroughbred Championship brand, as well as the "road to" the big event; help the industry reach consensus on key economic issues; and strengthen the organization."We're narrowing the focus in the five areas to try and move the needle," Smith said. Along with his address came good news regarding racing's popularity (it was one of just a few sports to see an increase in populurity from 2001 to 2002, according to an ESPN poll) and the awareness of the NTRA and the "Go Baby Go" slogan.Smith also provided two of what he described as "David Letterman Top 10" lists -- 10 things accomplished in the past year and a wish list for the next 12 months.The top 10 accomplishments were: combining of the NTRA and Breeders' Cup Ltd. staffs and operations; strengthening the membership base; launch of the new Breeders' Cup World Thoroughbred Championships brand; an improved balance sheet for the organization; three new major sponsors; the success of the Belmont Park Breeders' Cup and the industry's creation of the NTRA New York Heroes Fund in the wake of the Sept. 11 terrorist attacks; legislative gains in Washington, D.C.; increased presence of horse racing in popular culture; the initial work done by the NTRA Drug Testing Task Force; and extended television contracts with NBC.The wish list consisted of: more awareness and higher television ratings for the Breeders' Cup, including expanded international television coverage; three additional corporate sponsors; continued expansion and improvement of TV coverage; new momentum for marketing programs; new wagering products; more progress in membership development; measurable progress with web site fan development; additional legislative success, including elimination of a 30% withholding tax on foreign wagering; a successful Great State Challenge; and growth within the NTRA group purchasing program.Smith also talked about market research that is helping the NTRA refine its advertising strategy; an expansion of racing's presence on television to 184 hours in 2002 (up from 115 in 1997); and a revamped Racehorse Digest on ESPN that will be unveiled Kentucky Derby week with a new name, new look, and increased NTRA involvement.The summit, held at Treasure Island hotel and casino in Las Vegas, concludes on Tuesday.



Copyright © 2015 The Blood-Horse, Inc. All Rights Reserved.