California Hopes for Another Classic Victory
by Frank Angst
Date Posted: 5/14/2014 5:11:38 AM
Last Updated: 5/15/2014 8:50:30 AM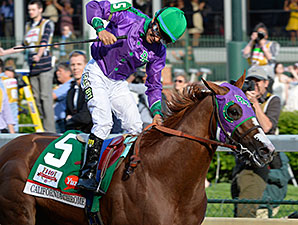 California Chrome will try to become first Cal-bred to win two Triple Crown races.
Order This Photo
Photo: Skip Dickstein
In early April, California Chrome co-owner Steve Coburn said it was time to stop worrying about the California-bred status of the emerging star 3-year-old.
A historical comparison of Kentucky Derby winners foaled in Kentucky with those foaled outside the Bluegrass State suggests anyone still worried over the state letters that follow California Chrome's name can officially drop that concern.
A look at the 100 years going into this year's Derby reveals that horses foaled outside of Kentucky who win the Louisville classic go on to win a second Triple Crown race at the same rate as those Derby winners foaled in Kentucky. Derby winners foaled in Kentucky or out of Kentucky also win the Triple Crown at the same rate.
In the past 100 years going into 2014, 27 horses not foaled in Kentucky won the Derby. Of that group of 27, 12 would go on to win at least one more classic for a 44% strike rate. Of the 73 Kentucky-breds to win the Louisville classic in those 100 years, 32 went on to win the Preakness Stakes (gr. I), Belmont (gr. I), or both (also 44%).
Three of those 27 Kentucky Derby winners not bred in the Bluegrass went on to capture the Triple Crown: Texas-bred Assault (1946), Virginia-bred Secretariat (1973), and Florida-bred Affirmed (1978). That gives the non-Kentucky-breds who win the Derby an 11% strike rate when it comes to winning the Triple Crown.
That rate is identical to the 11% rate (eight of 73) Kentucky-bred Derby winners to go on to win the Triple Crown.
"They just kept saying that he's just a Cal-bred, he's just a Cal-bred, and like I said, he doesn't know that. He doesn't know he's a Cal-bred. He just likes to run," Coburn said in April. "To me it doesn't make any difference. It's the horse and the heart of the horse that makes the horse."
Of the nine other Derby winners not foaled in Kentucky who went on to win a second classic, seven won the Preakness and two won the Belmont (see list below).
This year California Chrome will try to become the first California-bred to win the Derby and a second classic. The three previous Derby winners bred in California—Decidedly, Swaps, and Morvich—failed to nail down a second Triple Crown race.
Decidedly, the 1962 winner, finished eighth in the Preakness and fourth in the Belmont. Because of a quarter crack, 1955 Derby winner Swaps didn't race in the Preakness or the Belmont, races swept that year by Belair Stud's Derby runner-up Nashua. The 1922 Derby winner, Morvich, didn't compete in the Preakness, held on the same day as the Derby that year, or the Belmont.
California Chrome's trainer Art Sherman said fans have rallied behind him, especially in California.
"He's a very popular horse, especially in California. He's a California rock star right now, and, hey, I'm enjoying it," Sherman said. "When do you ever get a horse like him? You know, it's my first time to have a horse that has his kind of talent."
Triple Crown winners not foaled in Kentucky
Horse
Year
State
Affirmed
1978
Florida
Secretariat
1973
Virginia
Assault
1946
Texas
Derby-Preakness winners not foaled in Kentucky
Horse
Year
State
Smarty Jones
2004
Pennsylvania
Funny Cide
2003
New York
Silver Charm
1997
Florida
Pleasant Colony
1981
Virginia
Kauai King
1966
Maryland
Northern Dancer
1964
Canada
Carry Back
1961
Florida
Derby-Belmont Stakes winners not foaled in Kentucky
Horse
Year
State
Needles
1956
Florida
Middleground
1950
Texas
Copyright © 2015 The Blood-Horse, Inc. All Rights Reserved.