Seattle Slew's Surgery Detailed; Photos Included
by Kimberly S. Brown
Date Posted: 3/7/2002 3:46:16 PM
Last Updated: 3/7/2002 4:32:06 PM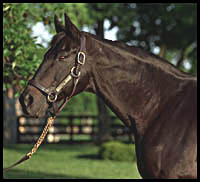 Triple Crown winner Seattle Slew.
Photo: Barbara D. Livingston

Seattle Slew, the only living winner of Thoroughbred racing's Triple Crown and the oldest living Kentucky Derby winner, underwent surgery to fuse two arthritic joints in his neck on Saturday, March 2, in Lexington, Ky. This is the second operation of this type the 28-year-old stallion has needed. The first surgery was done in early 2000.The lead surgeon each time was Barrie Grant, DVM, Dipl. ACVS, of San Luis Rey Equine Hospital in Bonsall, Calif. In 2000, the stallion began showing sudden signs of ataxia (incoordination) after his morning exercise at Three Chimneys Farm. Seattle Slew also was not "straight" behind when he walked. The farm's veterinarian, Jim Morehead, DVM, conducted a neurologic exam and did X rays on the horse, and noted radiographic changes in Slew's lower neck.Read entire story and see photos from Seattle Slew's surgery



Copyright © 2015 The Blood-Horse, Inc. All Rights Reserved.