World Record Filly Boosts Barretts Sale
by Deirdre B. Biles
Date Posted: 3/5/2002 11:47:01 PM
Last Updated: 3/8/2002 11:33:04 AM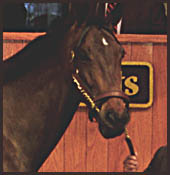 Stormy Atlantic filly was sold for a world-record price for her age and sex.
Photo: Benoit & Associates

Pumped up by a world record price for a juvenile filly sold at public auction, the Barretts March sale of select 2-year-olds in training showed renewed signs of vigor Tuesday after suffering declines in gross revenue for five consecutive years. In addition to an increase in gross, the latest edition of the Southern California auction experienced upswings in its average and median prices. Another positive trend was a decrease in the buy-back rate."There was a lot of sizzle," said Barretts president Jerry McMahon. "I think it was clear that buyers like to come here. They came, and they were very serious about trying to buy horses. They did a lot of preparation. They did a lot of vet work. And if they liked the horse, they were willing to compete for it."The 73 juveniles sold grossed $10,950,000, up by 8.6% from last year, and averaged $150,000, up by 5.6%. The median of $90,000 represented a 28.6% increase. The buy-back rate fell from 45.4% last year to 40.0% this year.McMahon attributed much of the improvement in business to the recent success of Barretts' March graduates. Came Home, Habibti, and Officer emerged from last year's auction to become grade I winners. An earlier graduate, Squirtle Squirt, captured the 2001 Breeders' Cup Sprint (gr. I)."At a time when we really needed it, the performance of our better horses in last year's 2-year-old races helped confirm to buyers that you better not miss this one," McMahon said. "Despite our small catalogue, the buyers felt like that they had better shop here."Returning to action at Barretts was Prince Ahmed Salman, who purchased Officer and Habibti at the auction in 2001. He was this year's leading buyer, by far, in terms of gross expenditures, paying $4,045,000 for six horses. The most expensive was a $1.9-million filly from the first crop of the stakes-winning Storm Cat stallion Stormy Atlantic. She topped the sale while establishing a world record auction price for her gender.Bidding behind the closed door of a conference room inside the Barretts sale pavilion, Salman outlasted the Irish veterinarian Demi O'Byrne in the battle for the strapping filly, which stands over 16 hands.Said O'Byrne afterward: "I had a feeling that I wasn't going to get her."The $1.9-million filly will be trained by Bob Baffert, who managed the career of Salman's 2001 Horse of the Year Point Given. Salman described his expensive purchase, which was made in the name of The Thoroughbred Corp., as a cross between Sharp Cat and Point Given. Asked about her pedigree, which was not the most fashionable in the catalogue, the Saudi prince said: "If she can run and she's got Bob Baffert, no problem."The filly was produced from the 12-year-old Seattle Slew mare Super Chef. The Barretts sale topper's second dam, Super Cook, won the Ak-Sar-Ben Oaks (gr. III) and finished third in the Kentucky Oaks (gr. I).The filly was bred in Florida by Arthur I. Appleton, who owns Bridlewood Farm near Ocala. She was consigned to the 2001 Keeneland September yearling sale, where she was purchased by trainer James K. Chapman for $31,000. Chapman and his father, former Bridlewood general manager J.R. Chapman, owned the filly and consigned her to the Barretts auction in name of Chapman Farms. She worked an eighth of a mile in 10.3 seconds during the sale's first under tack show on Feb. 25 and then breezed a quarter mile in 21.8 seconds on March 3."She moves better, I think, than any horse in the sale," said Richard Mulhall, Salman's chief adviser. "She actually is kind of ugly looking at her, but she's not ugly when she moves. She's really a terrific mover. She covers a lot of ground and does it so easy."Mulhall added that Salman never had any thought of dropping out of the bidding for the filly."We don't think stop; we think go!" he said.



Copyright © 2015 The Blood-Horse, Inc. All Rights Reserved.