Steve Haskin's Derby Watch--Week 7 (3/5)
Updated: Tuesday, April 23, 2002 8:48 PM
Posted: Tuesday, March 5, 2002 4:34 PM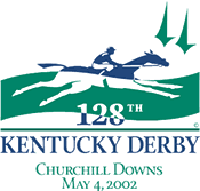 To help sort out the contenders from the pretenders for the 2002 Kentucky Derby, The Blood-Horse's senior correspondent Steve Haskin has listed the horses to look for in coming weeks.1 --
Repent/Kenny McPeek; Louis Quatorze-Baby Grace, by Cipayo
Runs next in March 10 Louisiana Derby. Bailey has been working him and has been impressed with what he's seen. Went 5 furlongs in 1:00 3/5 on Tuesday. Doesn't need to win all his preps, so no cause for alarm if some horse steals a race on him somewhere down the road.2 --
Siphonic/David Hofmans; Siphon-Cherokee Crossing, by Cherokee Colony
Worked 7 furlongs in 1:28, with Hofmans catching him his final two eighths in :11 4/5, then :13. The important thing with this colt is that he keeps working steadily and is in top form for the San Felipe. Then we'll know once and for all how serious a Derby contender he is. If he runs his "A" race, he shouldn't get beat.3 --
Harlan's Holiday/Kenny McPeek; Harlan-Christmas in Aiken, by Affirmed
Drilled a sharp 5 furlongs in :59 1/5 with Edgar Prado aboard for the Florida Derby. We should finally find out just where he fits in the Derby picture. He probably needs to win this race more than the others do, just to show those seconds to Booklet aren't habit-forming.4 --
Nokoma/Todd Pletcher; Pulpit-Eliza Blue, by Icecapade
Turned in sharp 5-furlong breeze in 1:00 4/5 Tuesday, with last quarter in :23 3/5 on "cruise control." He just needs to be there at the finish of the Florida Derby and show that he's got it all together again. Pletcher says he's a different horse now, and much more confident since the track surface changed.5 --
Saarland/Shug McGaughey; Unbridled-Versailles Treaty, by Danzig
Up against it with only two starts before the Derby. There should be some brilliant horses in the Gotham, and a victory certainly isn't imperative. But he has to show he's grown up mentally and has packed some muscle. And he to show he can kick home in quick time, even if he comes up short.6 --
D' Coach/Shug McGaughey; Dehere-Catatonic, by Big Spruce
Breezed 5 furlongs in 1:02. McGaughey had first said he was definitely pointing for Florida Derby. But there is a 1 1/16-mile allowance race in the book for him on the same day, giving McGaughey another option. Still feel he's a top colt if he can get his act together.7 --
Sunday Break/Neil Drysdale; Forty Niner-Catequill, by Storm Cat
Made it over his second hurdle, but now must keep it going against stakes horses. With Pulpit and Storm Cat, there's still that nagging question whether or not he'll relish 1 1/4 miles. Still basically a guess, but a talented guess.8 --
Came Home/Paco Gonzalez; Gone West-Nice Assay, by Clever Trick
In a year like this, what we wouldn't give to inject this colt with a shot of Ribot or Herbager. He simply does everything right and wins for fun. But his pedigree and close-up running style are against him, and the last two runners-up behind him have been longshots who came along late to pick up the pieces.9 --
Johannesburg/Aidan O'Brien; Hennessy - Myth, by Ogygian
Why do all the truly brilliant horses this year have so much going against them? History and logic tell us he'll have to be a total freak to overcome everything. Lack of info from Ballydoyle doesn't make it any easier. But this year's Derby really does need a horse like him badly.10 --
High Star/Nick Zito; Private Terms-Polember, by Polish Navy
Turned in a sharp 5-furlong work in 1:00 4/5. Addition of Gary Stevens certainly will help. Florida Derby big race for Zito, as it will tell him once and for all if his best 3-year-old is Derby caliber. A big effort here and it's on to Keeneland as a leading contender.11 --
Saratoga Blues/Tony Dutrow; Twining-Time for a Wedding, by Manila
Worked a sharp 5 furlongs in 1:00 4/5 at Laurel. Smoked Em's third-place finish at 2-5 in Big A allowance didn't enhance Whirlaway form, but until they beat him, he's still a colt with an unlimited future. A loss in the Gotham would hardly be the end of the world.12 --
Blue Burner/Bill Mott; French Deputy-Haiati, by Alydar
His half-mile breeze in :50 2/5 is excellent time at Payson Park. He doesn't need to improve a heckuva lot in the Florida Derby to hit the board again, or even win the whole thing. We would, however, like to see a little more kick.13 --
Booklet/John Ward; Notebook-Crafty Bobbie, by Bob's Dusty
Not much more to say about him that hasn't been said before. While his pedigree is questionable, it's not inconceivable he can get the Derby distance under ideal conditions. But's it's his confirmed front-running style that is a concern. You can always be sure of pressure on the front end14 --
Danthebluegrassman/Bob Baffert; Pioneering-Stay With Bruce, by Grey Dawn II
Question is, will Baffert go the easier route and return to Golden Gate for another sip of Cappuchino, or will he tackle the big boys in the San Felipe and find out just what he has? The former is a much better route to assure he stays on the Derby trail, and if Baffert has doubts about the colt and merely wants to hang out on the trail longer, then that's the way to go. But a big effort in the San Felipe would make him a legitimate contender.15 --
USS Tinosa/Jerry Hollendorfer; Foxhound-Angel Puss, by Wolf Power
We really don't know what to make of the California form, as no one other than Came Home has stepped up recently and make people take notice. The form of the Sham Stakes is supsect at best, but he did completely overpower his opponents. On the other hand, he was beaten fair and square by Danthebluegrassman. Let's just stay tuned to the San Felipe.16 --
American Style/Nick Zito; Quiet American-Style Setter, by Manila
Zito has three barrels aimed at Churchill Downs, and this colt has the potential to develop into a classic horse if he keeps improving and shows some consistency. There were a lot of things to like about his last race, and we'll know a bit more where he fits in after he tackles better allowance company in his next start.17 --
Monarchoftheglen/Niall O'Callaghan; A.P. Indy-Milliardaire, by Alydar
If we're going to take a shot with American Style, we're surely going to do the same with this colt. If he runs a big race in an allowance event on Florida Derby day, then we feel he's on his way to much bigger and better things. If you're looking to take a wild stab at a monster longshot for the Derby, he has a lot of things going for him – looks, pedigree, the ability to accelerate, and a lot of room for improvement.18 --
Bunk N Ted/Kenneth Wirth; Belong to Me-Littlemountaingirl, by Synastry
Rounding out our "take a shot" trio is this undefeated gelding, whom we will feature next week. Not only has he looked awesome in his two starts at Tampa Bay Downs, but the horse he defeated in his maiden victory at Churchill Downs, Perfect Drift, has developed into a top-class stakes horse at Turfway. In a year like this, you've got to keep searching; you never know what's brewing under that top layer.
Contenders 19-30, Knocking on the Door
FREE! E-Newsletters from The Blood-Horse!...
Follow the top stories of major racing events, racing previews and results with FREE e-newsletters from bloodhorse.com. As news develops, we'll deliver updates to your inbox. Follow important events moment by moment, step by step!