By Derek Brown (Twitter: @NJDerek)
Most people who have ever seen me assemble what might be referred to as "an outfit" would never ask my opinion on what they should wear to the races. My fashion counsel generally begins and ends with this tip—wear something that matches what you're most likely to spill upon it.
But opening day has arrived at Keeneland, the Kentucky Derby Presented by Yum! Brands (gr. I) and other Triple Crown races are right around the corner, and fashion is much a part of the experience as the horses themselves. While everyone has their own flair, what works at the book club, office, Renaissance Faire or Jimmy Buffet concert doesn't always work at the racetrack. Before you hit the clubhouse, inform yourself with this official Gentleman's Guide to Fashion at the Races: Spring Edition.
No Capes Allowed...
We should get the topic of capes out of the way up front. It's completely fine if a cape is "your thing," and I'm sure you've had no shortage of conversations on the topic. Let that freak flag fly, just not at the racetrack. Any racetrack. It's more of an interior look anyway.
...Or Knickers
The same goes for knickers. Notice how nobody is making eye contact or coming within arm's length of this man. Knickers people outside of their natural habitats (golf courses) are dangerous and should be avoided.
We just went over this, guys. Why the bizarre obsession with showing ankle?
Go Bold Or Go Home (Sometimes)
You should, however, never be afraid to show off your spirit animal. It personifies your handicapping style and commands respect everywhere on the track.
The key is to find the right mix of function and creativity. You want to be noticed, but for the right reasons. Many take a flashy path, which is perfectly acceptable as long as it improves the article of clothing. This guy actually went a step farther by creating an optical illusion of the horse running backwards as he makes his way through the crowd. By the time anyone has realized what they've seen, he's long gone. That's cerebral style.
Ladies, it's important to differentiate yourselves from the horses. Think about maybe a fun sign or even a pin to show your support for your favorite runner. Wear an accessory you can quickly ditch should the horse scratch, or you happen to see yourself in a mirror and realize you've reached a critical crossroads in your life.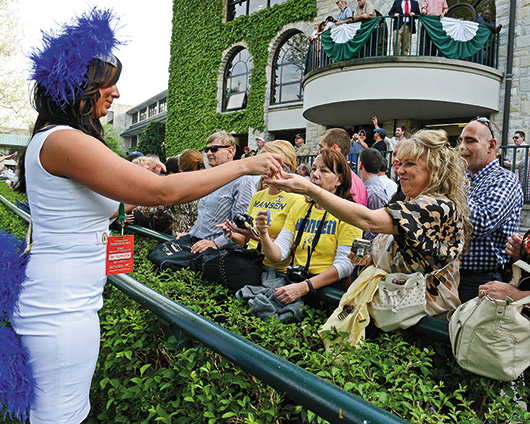 Photo: Anne M. Eberhardt
Fashion Q & A
Q:
@NJDerek On sweltering days at Saratoga is it always wrong to go shirtless, or just sometimes? Asking for a friend.

— Dan Needham (@thorotrends) March 8, 2014
A: Always.
Q:
@o_crunk @KeeneGal @NJDerek @sidfernando how about the Venezuelan Racetrack Mafia look? pic.twitter.com/kMhghv0rAl

— Ramiro A. Restrepo (@RamiroRestrepo) March 8, 2014
A: Again, always.
Statement:
@NJDerek heart-shaped sunglasses are a MUST.

— Ryan Dickey (@rdickey249) March 8, 2014
A: Gray area. Only on a track-by-track basis.
Another Statement: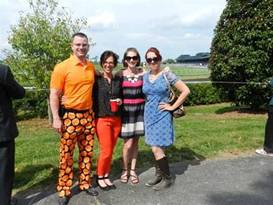 Photo: Matt Watts
A: Keeneland in October, yes. Everywhere else, no.
Comment:
@NJDerek for some reason, this look strikes fear into owners headed down to winner's circle at Aqueduct pic.twitter.com/wNU4jg9n1X

— Sid Fernando + Obser (@sidfernando) March 8, 2014
A: That's why the look is limited to the New York Metro area.
This also seems like a good time to ask that whatever track you're at, please don't scare the owners. They took the time to class up, and if you're going to rub shoulders you should do so as well. Otherwise, you will be called out and all your friends will know you dress like a guy picking up his fishing buddies from the airport.
And so it begins! #noturfclubnodresscodenoproblem @santaanitapark pic.twitter.com/QWej2ocLNn

— samantha siegel (@jayemesssam) March 8, 2014
More Advice
When in doubt, ask an expert. Aim for someone at least two levels of style acumen above your own. If the situation presents itself, go directly to someone 71 levels higher.
@NJDerek re: fashion: depends on day/venue. My fav: backyard at SAR - shorts w: v neck t. If dressy - go all in (pocket square a must).

— peter rotondo (@retro411) March 8, 2014
@NJDerek both go from super casual to impeccably dressed up but major difference I think is the colors. More conservative at the SPA.

— peter rotondo (@retro411) March 8, 2014
As with any scenario where people (judgmental people) will be in attendance, the advice of women who have been there—and by there I mean the winner's circle of the Breeders' Cup Classic (gr. I)—is invaluable.
@NJDerek I employ @FashionatRaces and @pattiannreeves on how to dress, #trusttheladies

— Steve Crayne (@StartingGateMkt) March 8, 2014
Trust the ladies. Sound advice. I recommend each of you follow it.