Eclipse Night: Humble Prince Makes His Point About Tiznow
by Ray Paulick
Date Posted: 2/19/2002 12:14:34 AM
Last Updated: 2/19/2002 12:28:52 PM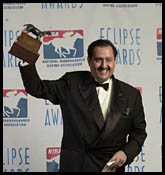 Prince Salman, with Point Given's trophy.
Photo: Horsephotos.com

Teamwork and dedications were a central theme at the 31st annual Eclipse Awards dinner, a black-tie event held Monday night at the Fontainebleau Hilton Hotel in Miami Beach, Fla., where champion 3-year-old colt Point Given was crowned 2001 Horse of the Year.Prince Ahmed Salman, who bred Point Given and campaigned him in the name of The Thoroughbred Corp., mixed humor and humility in to his acceptance speech. "Tiznow is a great horse and I thought he deserved to win," Salman said, referring to the Horse of the Year runner-up, who was named the champion older male. "To win over Tiznow -- that is a great achievement."Salman credited Thoroughbred Corp. manager Richard Mulhall and trainer Bob Baffert for the success he has enjoyed with Point Given. He then said he hoped Mulhall and Baffert will win for him the race he wants most -- the Kentucky Derby (gr. I). Salman also thanked his wife -- "By the way, my only wife," he quipped -- for always staying up with him until the middle of the night in his native Saudi Arabia, waiting for Mulhall to call with the results of races in California.Salman said he suffered three tragedies in 2001 -- the loss of his brother, Prince Fahd, who died in July; the career-ending injury suffered by Point Given the following month; and the Sept. 11 terrorist attacks in which a number of fellow Saudis took part. He said Point Given helped pull him through the grief of his brother's death and dedicated the Horse of the Year honor to him.Baffert, who finished third behind Robert Frankel in voting for outstanding trainer, later called Point Given "that one horse we're all waiting for. I don't know when I can ever get another one like him. They're hard to come by." Baffert, who won the Kentucky Derby and Preakness (gr. I) with both Silver Charm and Real Quiet, added that the Preakness and Belmont Stakes (gr. I) winner was "the best horse I've ever gone through the Classics with."Michael Cooper accepted the older male Eclipse Award for Tiznow, whose repeat win in the Breeders' Cup Classic (gr. I) was honored as the Moment of the Year in an online poll of racing fans that was sponsored by the National Thoroughbred Racing Association. Cooper dedicated the award to Tiznow's late breeder, Cecelia Straub Rubens, "for passing along some of her class and courage" to the champion California-bred colt. "And thanks to Tiznow for all the thrills and for letting us believe in the magic."The Eclipse Award for Tiznow was presented by Bill Belichick, the head coach of the Super Bowl champion New England Patriots. Belichick, who attended the races regularly at Pimlico, Bowie, and Laurel while growing up in Maryland, used a tape of Tiznow's Breeders' Cup triumph to motivate his team when they were making their stretch run for the playoffs in November. Belichick compared racing to football and the need for preparation and teamwork in both sports. "People in this room can really appreciate teamwork," he said. Kenny Mayne, the popular ESPN personality emceeing the Eclipse Awards for the third year, did his best to keep the 2 1/2-hour program moving along, interspersing his offbeat sense of humor with his genuine love of racing. Speaking of Thoroughbred owners, Mayne said, "Without owners the horses would be running around wild -- like free-range chicken." But Mayne also generated the evening's warmest moment, an impromptu tribute to Joe Hirsch, the veteran Daily Racing Form columnist, who received a standing ovation from the crowd.Mayne wasn't the only one who attempted to lighten up the evening. Miami-area radio and television personality Hank Goldberg, the only presenter from South Florida, took a mild shot at Gulfstream Park's weekly concerts that have been criticized by some horsemen and media. "I want to welcome you to racing's concert capital," Goldberg said. "I wasn't sure if I was giving out an Eclipse Award or a Grammy."There were several references to the Sept. 11 tragedy, one from British television commentator John McCririck, he of the muttonchops and Sherlock Holmes-style hat. "We are all honoring Americans now," McCririck said in an uncharacteristically serious moment. "We Britons stand shoulder to shoulder with the United States, whatever the future holds."Also referencing the terror attack was John Ferguson, who accepted a Special Eclipse Award on behalf of Sheikh Mohammed, the crown prince of Dubai and defense minister for the United Arab Emirates. Sheikh Mohammed was responsible for the largest individual contribution to Sept. 11 relief efforts, but Ferguson said the support resulted from "a desire to help," not for publicity purposes. He said the work Sheikh Mohammed is now doing in Dubai -- "privately and behind the scenes" -- is benefitting the U.S. government's war on terror.Turning to racing and Sheikh Mohammed's Godolphin operation, which won Eclipse Awards for 2-year-old filly Tempera and turf male Fantastic Light, Ferguson said, "The challenge is the future and we still have plenty of dreams. The Kentucky Derby...that is a mountain we would very much like to climb."Other highlights of the evening:Jerry Bailey, winning his fifth Eclipse Award as outstanding jockey, calling his young son, Justin, onstage, and apologizing for all the games and school events he has missed because of the demands of his travel schedule. Justin said, "My Mom and I are really proud of my Dad. He's the best."Harry Deitchman, co-owner of 3-year-old filly champion Xtra Heat, thanking his wife for "increasing my allowance and letting me become a one-third owner of Xtra Heat," who was purchased for a bargain price of $5,000 as a 2-year-old at Fasig-Tipton's Midlantic sale.Eighty-one-year-old racing official Pete Pederson, co-recipient of an Eclipse Award of Merit (with breeder and humanitarian Harry T. Mangurian), wondering what award he was getting. Pederson said he thought he might be considered the "older male winner," but saw Tiznow as the likely winner. "Tiznow is younger, richer, has more hair, and his entire sex life is ahead of him," Pederson said.



Copyright © 2015 The Blood-Horse, Inc. All Rights Reserved.