Fair Grounds Race Report: McPeeking in New Orleans
by Gary McMillen
Date Posted: 2/17/2002 6:07:06 PM
Last Updated: 2/21/2002 10:03:37 AM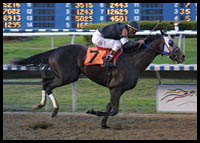 Repent continued on the road to the Kentucky Derby with a victory in the Risen Star Stakes.
Photo: Fair Grounds photo

Published in the Feb. 23 issue of The Blood-Horse
It was the same old song but with a different beat. In 1995, trainer Kenny McPeek brought Tejano Run to Fair Grounds for his sophomore debut in the Risen Star Stakes. Tejano Run staggered home in fifth as the 1-2 favorite that year but went on to finish a fast-closing second to Thunder Gulch in the Kentucky Derby (gr. I). This pattern of success imprinted on his mind, McPeek chose the Feb. 17 renewal of the $150,000 Risen Star Stakes (gr. III) for Select Stable's Repent's first test on the road to Louisville. As the only graded winner in the nine-horse field, Repent was odds-on to prove his celebrity status. The similarities to Tejano Run were obvious. "I've been down this road before," McPeek said. "This horse (Repent) has a quicker turn of foot, so I'm pretty excited at this point." Repent's arrival in the paddock was electric. The fans elbowed for position on the fence for a closer look at the real deal. Looking every bit the runner, Repent was clearly on the muscle, his coat shining. "Racing," announcer Michael Wrona said when the gates sprung open. From jump street, it was clear nobody wanted to run two turns with Bob's Image. The big gray dug in and bounced out for the lead as Sky Terrace pursued around the first turn. War Emblem and French Assault were eager trackers. Repent was laid back, next to last, three lanes off the rail. Bob's Image posted a brisk :46.12 opening half as the field began to string out. Approaching the final turn, those that had elected to press the pace began dropping off like petals on a wilted rose. For Repent, it was time to gather momentum and pick up the pieces. He had six lengths to make up. Turning for home, jockey Tony D'Amico took the married man's route, fanning Repent eight wide. "I had a quick pace in front of me and a horse that was full of run," the veteran jock said. "When it was time to go, I didn't want to fiddle around and take a chance of getting shut off." With a furlong and a half to run, the tenacious Bob's Image was sending a message he was not just an ordinary horse. Repent had to throw down. He moved over in front of the others and began a sprinter's attack on Bob's Image. The argument didn't last long. Repent claimed the lead inside the final sixteenth and went on to win easily by 2 1/4 lengths in 1:43.17. Bob's Image held on for second while Easyfromthegitgo passed tiring horses to get up for third. French Assault, blocked momentarily on the far turn, managed to rally and finish fourth. Trainer Dallas Stewart was the first to congratulate McPeek on his colt's impressive performance. "Why don't you leave these horses in Florida and let a man make a living?" Stewart said with a smile and a handshake.
McPeek, standing tall in the winner's circle, was a happy camper. "I don't know how long the stretch is here," McPeek said, "but it was one of the reasons we came. It fits his running style and gives him time to get in full gear." Informed the last five winners of the Louisiana Derby (gr. II) had come out of the Risen Star, McPeek shrugged his shoulders. "I believe that this is a special horse and we have to be careful not to tap him out too early. There are a lot of big fish to be fried later on."

TAKING CHARGE
It was afternoon feeding time when groom Eddie Rivera brought Take Charge Lady back to Barn 29, but the 3-year-old filly didn't have an appetite. Why should she? The bay daughter of Dehere had just devoured the field in the $150,000 Silverbulletday Stakes (gr. III) on Feb. 16 and she wasn't hungry. A stable hand stopped what he was doing and just stared at her. "If I had that kind of horse, I wouldn't get out of bed in the morning," he said, shaking his head in admiration. By any standards, or measurements of time, Take Charge Lady's presentation of effortless speed was stunning. Under a hand ride and pulling away at the wire, her time of 1:42.09 for the 1 1/16 miles equaled the track record set before times were measured in hundredths of a second. From the bell, Take Charge Lady let everybody know who was the boss. Detaching herself from the others, the Select Stable's splendid filly swept around the first turn with power. Chamrousse and Lake Lady, side by side, put in a futile chase. Setting her own pace, Take Charge Lady sailed down the backside, a classy filly loose on the lead. Going around the far turn, the field compressed. There appeared to be hope for the favored Lake Lady, but it was a false impression. The mile fraction of 1:35.66 set by Take Charge Lady was faster than the track record for that distance, and the splendid filly prepared by McPeek had plenty left in the tank. "I wasn't asking her for anything more than I needed," jockey Jon Court said. "I could tell when we left the paddock that she was on her game. She cooperated all the way around and when we got in the lane she put in a super kick." Down the long stretch, Take Charge Lady extended her gait and galloped home an 8 1/2-length winner. The race, if you could call it that, was for second. Charmed Gift showed signs of a filly that is moving forward. The daughter of A.P. Indy came with a steady move to pass a determined Chamrousse for second money. Trainer Neil Howard, who has a reputation for not pushing young horses, was pleased with Charmed Gift's effort. "The winner was awesome," Howard said, "but we're happy. We've got a well-bred filly that placed in a graded stakes." (Chart, Equibase)



Copyright © 2015 The Blood-Horse, Inc. All Rights Reserved.