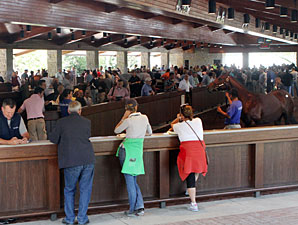 Keeneland's parking lot was still crowded Sept. 18 as the auction house's 12-day September yearling sale rolled into its ninth session, and the buyers on hand were keeping the auction's figures ahead of last year.

Wednesday's session-topper was a $185,000 Kitten's Joy colt that Gerry Dilger's Dromoland Farm agency sold to Cromwell Bloodstock. The March 9 colt is out of the Stephen Got Even winner Esther Got Even, and sold in the session's last half-hour. His dam is a full sister to stakes-placed Debbie Got Even and his third dam is the multiple graded winner (and course record-equaling) mare Via Borghese.

The session grossed $11,179,500 for 311 yearlings, and the session's average and median were $35,947 and $27,000, respectively. The average was up 31.9% from last year's ninth session, and median had gained 35%. Buybacks were 12.8%, a very low figure but still higher than last year's astonishingly small 9.6%.

After Keeneland reformatted the sale and extended select sessions from one last year to four in 2013, the most apt comparison is the cumulative figures through each year's first nine days.

Through Wednesday, the 2013 auction's cumulative average is $130,780, up 31% from last year's nine-day average of $99,785. The 2013 median also is on the upswing; through Wednesday, it was $77,000 a 40% improvement on last year's figure.

Gross sales for the 2013 auction outpaced 2012's 11-day total on Tuesday and now stand at $264,436,500 for 2,022 yearlings sold.

Through the first nine days, the 2013 sale's buyback rate is 22%, up slightly from last year's 20.9% at the same point.

Aided by his session-topper, Kitten's Joy led the day's sires by average price (three or more sold) after his trio of yearlings averaged $105,000 from total sales of $315,000. Cromwell Bloodstock ended the day as the session's leading buyer by average purchase price (three or more bought) after buying four yearlings for an average price of $98,000.

The Kitten's Joy colt was one of two to bring more than $150,000 at Wednesday's session, with the other being a $175,000 Run Away and Hide colt that agent Kate Sheehan bought from Mr. and Mrs. Robert S. West Jr.'s Waterford-Millford Farm. The Feb. 25 colt is out of the Distorted Humor winner No Dress Code, making him a three-quarter brother to Reneesgotzip, a grade II winner who added a sparkling update to the pedigree page recently when she won the grade III Rancho Bernardo Handicap in track-record time, lowering Del Mar's mark for 6 1/2 furlongs to 1:14.48.

The day's most expensive filly, and third-highest price overall, was a $140,000 Ghostzapper filly out of the stakes-placed Cozzene mare Cozy Gain, who set a one-mile course record of 1:34.23 at Laurel in 2006.

Bob Baffert, agent, selected her from the Adena Springs consignment. A Feb. 29 foal, she's from the family of grade III winner Broad Gains.

John Sikura's Hill 'n' Dale Sales agency was Wednesday's leader by gross sales, moving 24 horses for $938,000. The leading seller by average (three or more sold) was Meg Levy's Bluewater Sales consignment, which sold eight yearlings Wednesday for an average of $64,500.

Bob Lothenbach's Lothenbach Stables led all buyers by total purchasing, spending $447,000 to secure six horses.

First-crop sire Discreetly Mine edged out another freshman sire, Warrior's Reward , to claim the title of session-leading sire by gross sales. Discreetly Mine's eight yearlings grossed $352,000 and averaged $44,000, just ahead of Warrior's Reward's total of $327,000 for six yearlings, which averaged $54,500.

The Keeneland September yearling sale will continue through Sept. 21 with sessions starting each day at 10 a.m.