Fleecing of America
by Ray Paulick
Date Posted: 2/13/2002 9:30:01 AM
Last Updated: 4/5/2002 8:51:30 AM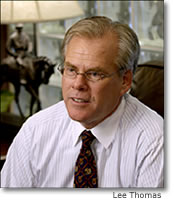 Ray Paulick
Editor-in-Chief



You can't race or bet on an alpaca. But you can breed, raise, and own them, and as the Alpaca Owners and Breeders Association (AOBA) has proven, you can market them. More specifically, you can promote the idea of breeding, raising, and owning these fleece-producing creatures. In June of 1988, a group of 38 people held a meeting in Michigan to form an association to promote the alpaca industry, educate people about their care and breeding, and foster growth of the breed outside its native South America. Alpacas were first imported into the U.S. in 1984. The association received nonprofit status from the Internal Revenue Service in June of 1991; there were 87 founding members of the AOBA, and an estimated U.S. alpaca population of 392. Five years later, the AOBA had grown to 1,000 members, and there were 8,000 alpacas on file with the breed's official registry. Since 1996, the growth of the industry has accelerated. Currently the AOBA has more than 2,500 members and the alpaca population totals 33,000. The herd is increasing by 22% annually, said Ken Hobert, business manager for the AOBA. The "fleecing" of America is rapidly gaining momentum. According to Hobert, a great deal of the growth has to do with marketing. Through annual membership dues of $125 and other fund-raising activities, the AOBA has a total annual marketing budget of about $600,000, two-thirds of which is spent directly on media buys for cable television and print publications. In addition, 100 breeding farms each put up $5,000 to promote the alpaca industry in their own co-op advertising program centered on the theme I Love Alpacas. (Both campaigns direct potential investors to Web sites--www.ilovealpacas.com or www.aoba.org) The two budgets combined still fall short of $1 million per year to market an animal that, Hobert said, 95% of the population doesn't even recognize. People in the Thoroughbred industry who insist anything less than $50 million for national marketing is merely a drop in the bucket will scoff at the suggestion that the AOBA can have any impact on such a small annual budget. Well, guess what? For about $800,000 a year, the alpaca industry has a daily presence on cable television--yes, daily--and is regularly promoted in magazines like Martha Stewart Living and Country Living. Using a tight-fisted media buyer that Hobert said "never buys retail," the alpaca industry is promoted on several cable packages. All are purchased through DirecTV or the Dish Network. The ads promote Alpaca breeding as a fun family activity, but also as a serious investment. The first media package shows AOBA or I Love Alpaca ads on CNN, CNN-fn, CNBC, and MSNBC. I've seen the ads numerous times during the "Imus in the Morning" show on MSNBC or "The News With Brian Williams" during evening prime time. A second targets women on the Oxygen and Lifestyle channels, and a third showcases alpacas on Animal Planet, Discovery, and The Learning Channel. "We've been doing this almost two years, and as the budget allows, have been able to increase it," Hobert said. "Between DirecTV and Dish, there won't be a day when there isn't an ad run over the next 365 days. "We know we get a response from the ads," he continued. "We measure our Web site traffic and people who eventually join the association. There is usually a period of three months to a year before we see the results." The National Thoroughbred Racing Association, Thoroughbred Owners and Breeders Association, and Keeneland are looking for ways to promote Thoroughbred ownership through a program known as "TheGreatestGame." Perhaps they can learn from the modest, but fast-growing alpaca industry.



Copyright © 2015 The Blood-Horse, Inc. All Rights Reserved.