The Task at Hand
by Ray Paulick
Date Posted: 8/22/2000 10:02:53 AM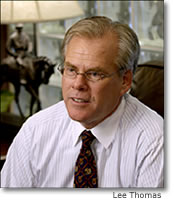 Ray Paulick
Editor in Chief


Just about everyone in the horse business has a partner in Uncle Sam. No front-page news there. And if the feds were the only government partners horse people had, things might not be so bleak. But layers of government intervention and regulation at state and local levels make a bad situation worse. From New York to California and most places in between, state governments--with few exceptions--have not been very good friends or partners to racing. New York's off-track betting system, run by governmental agencies, has been the model all other states have avoided. The pioneer state for OTB in this country, New York's motto might be: "First...and worst!" California's off-track wagering system is no bargain, either. Licenses to conduct off-track wagering are limited to county fairs, often in inconvenient locations and run by people with little incentive to offer an acceptable level of customer service. Churchill Downs and Magna Entertainment can invest hundreds of millions of dollars in Southern and Northern California facilities that put on live racing, then spend additional funds for promotion and branding, only to have their product suffer because of an inferior distribution system. California and New York's problems pale in comparison to those in New Jersey, where the principal racetracks--Meadowlands and Monmouth Park--are owned by the state. New Jersey's governor, Republican Christine Todd Whitman, seems bent on putting the state's Thoroughbred racing on life support or worse, with indications that she will alter an already flawed off-track and account wagering bill by reducing the revenue split to horsemen. Making matters worse -- not only in New York, California, and New Jersey, but virtually everywhere racing is conducted -- is the fact state governments have encouraged expansion of other forms of gambling while keeping the racing industry pinned down and unable to fight the competition. California, with a liberal policy toward Native Americans, soon will have full-blown Indian casinos all over the state. Can New York be far behind? New Jersey brought casinos to Atlantic City more than 20 years ago. Those states and many more have state-sponsored lotteries with heavy marketing and promotion budgets that would be the envy of any racetrack. Why can't a small portion of the state lottery budgets be allocated toward promotion of horse racing, which in most states helps support a significant agribusiness? State, federal, and local governments can be both a partner and a competitor to the racing industry. That's one reason a task force on regulation, created by the National Thoroughbred Racing Association, is so important. Heading the task force is Robert McNair, a relative newcomer to racing who, with wife Janice, operates Stonerside Farm. McNair, who made a brief presentation during The Jockey Club Round Table in Saratoga Springs, N.Y., on Aug. 13, knows more than a little about how government works. As head of a major power company that he sold in 1999 for $1.5 billion, McNair was one of the leaders in the process to deregulate electric utilities. "We need to keep in mind that most of the statutes and regulations that govern racing have been in place for many decades and were enacted back when racing held a dominant share of the gaming market in the United States," McNair said at the Round Table. "With racing's market share by some estimates now below 7%, we should assess, for example, whether it makes sense for track operators to pay millions of dollars each year in excise taxes, in addition to the corporate income tax paid by all for-profit businesses." The task force hopes to present its findings in December. Let's hope Uncle Sam and his friends will give serious consideration to whatever recommendations are made.




Copyright © 2015 The Blood-Horse, Inc. All Rights Reserved.