Saarland May Run in Fountain of Youth Following 5-Furlong Drill
by Steve Haskin
Date Posted: 2/9/2002 12:51:58 PM
Last Updated: 2/10/2002 1:32:14 PM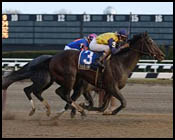 Saarland, winning the 1 1/8-mile Remsen Stakes.
Photo: Adam Coglianese

Several of the top-name 3-year-olds worked over the Gulfstream track Saturday morning, headed by Remsen Stakes winner Saarland, whose five-furlong breeze in 1:02 from the gate may have earned him a berth in next Saturday's Fountain of Youth Stakes."I really liked his workout and he's ready to run," trainer Shug McGaughey said. "I nominated him to the Fountain of Youth and I have to talk with his owner (Cynthia Phipps) about running him. She's out of town right now, so we'll wait and see. I could run either Saarland or Maybry's Boy, or maybe even run both of them."Saarland has not started since his come-from-behind score in the Remsen, in which he closed fast to nail Nokoma. Regular rider John Velazquez will be aboard the son of Unbridled if McGaughey and Phipps decide to run.One horse who definitely has his sights set on the Fountain of Youth is Booklet, winner of the Holy Bull Stakes. The son of Notebook worked 5 furlongs this morning in a sharp 1:00 4/5 with exercise rider Allen Rennie aboard."I was very pleased with the work," trainer John Ward said. "I had him going out six furlongs in 1:14. He was totally in hand, and that will be his last work before the Fountain of Youth. I like the way he's coming up to the race."One horse who will receive a good deal of attention in the Fountain of Youth is Stephentown, the consensus bandwagon horse since his explosive victory in a Gulfstream allowance race on Jan. 9. The son of Wild Again had an exceptionally slow five-furlong breeze this morning in 1:06 4/5 with jockey Pat Day aboard. Trainer Tony Reinstedler was just looking for a nice, slow breeze and got what he was looking for."Pat had him very relaxed," Reinstedler said. "I was a little cautious this morning because the track was a little firmer than I liked and I just wanted to keep him happy. I'm pleased with the way he's coming up to race and I like what I see."Trainer John Hennig said Saturday that Political Attack, winner of the Tropical Park Derby, run on dirt this year, will remain on the main track and run in the Fountain of Youth. Hennig's decision came after watching the colt work 5 furlongs at Payson Park this morning in 1:03."Five-eighths in 1:03 is a very good work up here," Hennig said. "What I liked the most is that he finished up well. The horse is just doing very well right now. Mark Guidry will ride."



Copyright © 2015 The Blood-Horse, Inc. All Rights Reserved.