Steve Haskin's Derby Watch: Week 3 (2/5/2002)
by Steve Haskin
Date Posted: 2/5/2002 11:51:25 AM
Last Updated: 4/23/2002 8:38:56 PM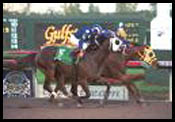 Showmeitall's Hutcheson victory was among the top prep races from last weekend.


Steve Haskin's Derby Watch--Week 3 (2/5/2002)1 -- Siphonic/David Hofmans; Siphon-Cherokee Crossing, by Cherokee ColonyNothing much to do but sit back and wait for the San Felipe on March 17. Until then, the top spot is his until someone takes it away from him. Not the strongest Derby favorite, but strong enough for now.2 -- Repent/Kenny McPeek; Louis Quatorze-Baby Grace, by CipayoAfter his last work in 1:00, McPeek didn't want a repeat of that and gave him a nice easy 5-furlong breeze in 1:03 2/5. As of now, the Risen Star, Louisiana Derby, and Blue Grass looks like the logical route.3 -- Saarland/Shug McGaughey; Unbridled-Versailles Treaty, by DanzigWith the Fountain of Youth not in his plans, not much to do with him either. If McGaughey can't get three races in him before Derby, he'll be bucking history, but does have a good racing foundation already.4 -- Changeintheweather/Dave Bell; Gone West-Meteor Colony, by Pleasant ColonyBreezed 5 furlongs in 1:02 1/5. Wherever he shows up, we're really looking forward to seeing what's there. Canadian form is a question mark, but that female family and those blowout wins are quite a combo.5 -- Johannesburg/Aidan O'Brien; Hennessy -- Myth, by OgygianNothing coming out of the O'Brien camp. Best just to put him on hold for now. Pedigree not the strongest for the Derby, and he's on target to have only two races. Remember, still hasn't been two turns. But bottom line is that he's an extraordinarily talented colt and only potential superstar so far.6 -- Stephentown/Tony Reinstedler; Wild Again-Lochlin, by Screen KingFountain of Youth should tell us if we have a new star ready to leap to the head of the class. Dam is a full-sister to the dam of Formal Gold, in our opinion the most underrated horse of the '90s.7 -- Harlan's Holiday/Kenny McPeek; Harlan-Christmas in Aiken, by AffirmedCertainly can't ask for more consistency in a young horse, and more versatile and push-button than stablemate Repent. Great-granddam Princessnesian beat the boys in 1 1/4-mile Hollywood Gold Cup.8 -- Nokoma /Todd Pletcher; Pulpit-Eliza Blue, by IcecapadeHad first work back since Holy Bull debacle. We feel he simply hated that deep track. Pletcher said he'll have to make a decision whether to keep him in Florida or ship out of town. Still a horse to watch.9 -- Easyfromthegitgo/Steve Asmussen; Dehere-Montera, by Easy GoerMaternal granddam, Mochila, is a half-sister to Cozzene and Del Mar Oaks winner Movin' Money. Female family has produced a ton of stakes winners; great Tartan Stable family. Lots to recommend.10 -- High Star/Nick Zito; Private Terms-Polember, by Polish NavyZito said he'll likely pass Fountain of Youth and concentrate on the Florida Derby. Already shown he likes Churchill Downs and slop, and has made great progress from 2 to 3. Lots of Elmendorf staying blood.11 -- D' Coach/Shug McGaughey; Dehere-Catatonic, by Big SpruceWe'll learn a lot about him in Whirlaway Stakes. Tough field, but should be plenty of speed. After two fast-closing seconds, it's time he takes a step forward and shows he can get the job done.12 -- Came Home/Paco Gonzalez; Gone West-Nice Assay, by Clever TrickWith an abundance of sprinters and milers in his pedigree, probably shouldn't be in Top 12, but he's such a brilliant, talented, and professional colt, we'll wait and see how far those attributes will carry him.13 -- b>Metatron/Jerry Hollendorfer; Silver Ghost-Dancing Ovation, by Northern JoveReturned from four-month layoff with a brilliant 7-length romp in Golden Gate; six furlongs in 1:09. Ran with the best last year on both ends of the country, and should have no problem stretching out to longer distances.14 -- Saratoga Blues/Tony Dutrow; Twining-Time for a Wedding, by ManilaHe'll be giving away some experience to his Whirlaway foes, and he'll be pressured if he shows speed, but if he can lay off the pace and just show a good closing punch, he could be a serious Derby contender.15 -- Pelirrojo/John Sadler; Flying Continental-La Fresa, by CozzeneExcellent rebound effort in one-mile allowance race at Santa Anita. Came from last with a strong run and just got up in three-horse stretch battle. Final time and closing fraction nothing to get excited about.16 -- Danthebluegrassman/Bob Baffert; Pioneering-Stay With Bruce, by Grey Dawn IIAs the number of Baffert's Derby hopefuls decrease, this hard-running colt starts looking better and better. As long as he keeps running at Golden Gate we won't learn much about him, but it at least keeps him on the Derby trail.17 -- Maybry's Boy/Shug McGaughey; Broad Brush-Aly's Conquest, by AlydarHave to give him another shot after 4th in Hutcheson Stakes. Made a good run on the far turn, but was spinning his wheels on quicksand-like track. If he can lay closer to the pace going two turns and still deliver a knockout stretch run, he'll be one to contend with.18 -- Azillion/Bob Hess; Alzao-Olivia, by Ela-Mana-MouRan huge in U.S. debut, finishing third in three-horse photo behind Pelirrojo. Turned in several excellent works leading up to the race. Plenty of European stamina blood, and inbred to Sir Gaylord. Ran spotty in debut; lots of scope for improvement. Next race will tell a lot. Will come in either San Rafael, El Camino Real Derby or an allowance race if one fills.19 -- Booklet/John Ward; Notebook-Crafty Bobbie, by Bob's Dusty
Turned in a sharp 5-furlong work in 1:00 3/5 for the Fountain of Youth. Just a little guy, but he's obviously a tough front-runner who's going to take a lot of catching. Just a matter of how far he can carry his speed.20 -- Flying Free/Carl Nafzger; Fly So Free-Sunblaze, by AlydarReally looking forward to seeing this colt run again after his horrendous start and monster middle move. Fly So Free questionable at 1 1/4 miles, and we really have no idea how much class he has. But you do know he does have excellent turn of foot; just have to see if he can sustain it.See Contenders 21-30, Knocking on the Door



Copyright © 2015 The Blood-Horse, Inc. All Rights Reserved.