Zippy Chippy, 0-91, Entered Thursday at Penn National
Date Posted: 1/30/2002 6:44:05 PM
Last Updated: 1/31/2002 12:39:31 PM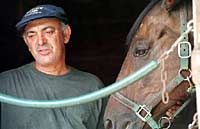 Forlorn hope: Monserrate and Zippy Chippy.


Legendary loser Zippy Chippy will attempt to win his first legitimate race Thursday night at Penn National when the 11-year-old will make his 92nd career start. The gelding -- by Compliance, who was winless from three career starts -- will face seven other horses, all 4- or 5-year-olds, in the six furlong maiden special weight race with a purse of $10,100.Zippy Chippy is listed at odds of 20-1 on the morning line, but his popularity makes it unlikely he'll go off at so high a price. Trainer Pablo Cosme sends out the 5-2 morning-line favorite Senor Magico.After losing his first 18 starts for Charles Frysinger or Frysinger and Richard Rudolph, Zippy Chippy was then sold for $2,500 in May of his 4-year-old season. He debuted for new owner Michael Barbarita later that month, finishing fourth in a Finger Lakes maiden race. He ran once more for Barbarita and trainer Ralph D'Alessandro -- another fourth-place finish, beaten by over 30 lengths -- before he was acquired by the more patient Monserrate.According to Web-based failure magazine, Zippy Chippy came to Monserrate in a trade for a 1988 Ford truck after the horse had already taken up residency in Monserrate's barn.Monserrate promptly dropped Zippy Chippy into the maiden claiming ranks, and Zippy Chippy responded with a third-place finish in his second start for the new trainer. He finished third again two races later before alternating between maiden claiming and maiden allowance ranks in his subsequent four starts, which included a second-place finish on a muddy track.Several years and no wins later, Zippy Chippy once again remained in the gate at the start of a Sept. 1998 race in which he finished last, beaten by 38 lengths. As a result, Zippy Chippy was banned from racing at Finger Lakes. Monserrate has subsequently had trouble finding a venue which will allow his horse to race. Since then, Zippy Chippy has raced on only six occasions, all at either Northampton Fair or Penn National. The subsequent publicity has also forced Monserrate to run Zippy Chippy in only maiden special weight races to prevent the horse from being claimed from him. His last start for a tag came in Sept. 1999, when he finished third at Northhampton, earning the chart comment "dueled, steadied second turn, bore out all three turns, tired."In his most recent start, Zippy Chippy beat only one horse, Steel Surfing, in a September race at Northampton. Steel Surfing failed to finish the race after propping and buckjumping, according to Equibase charts.Zippy Chippy's resume, though, boasts wins in exhibition match races. Last year, he won two such races, defeating 10-year-old Standardbred Paddy's Laddy in March and Rochester Red Wings outfielder Darnell McDonald in a 50-yard race on the Red Wings' outfield in August. The win against the minor-league outfielder avenged his defeat against Jose Herrera in a 40-yard race on Aug. 18, 2000 over the same surface.Heading into Thursday's race, Zippy Chippy has finished second seven times and third on 12 occasions for earnings of $29,467. Defining Zippy ChippyLosingest, forlorner, zipless: None of the three words is included in my deskside dictionary, which boast 1466 pages of entries, but they all seem apt in regards to Zippy Chippy.Should losingest enter the lexicon the credit may go to Zippy Chippy. The word has repeatedly been used to describe the gelding's career in Associated Press stories. Forlorner, a word used in a mid-1980's song by the Donner Party, seems appropriate, too, when discussing the zipless wonder. One might say, "Zippy Chippy, no one in heaven or earth is forlorner."The racing career of Zippy Chippy, and his English counterpart Quixall Crossett (0-103 following his most recent start in November), certainly beg the creation of new words to appropriately describe their plight. Zippy Chippy in particular, with the first word defined as "brisk, energetic; lively, snappy," is far too ironic and pleads for the use of a word like zipless.The Curse of Zippy?Zippy Chippy is out of the Buckfinder mare Listen Lady, dam of 10 other horses. Aside from Zippy Chippy, eight of her horses have raced, with six of those earning wins. Indeed, her first six foals were winners, including the 22-time winner Rambo Robert (by Bold Navy). And then came Zippy Chippy.Since Zippy Chippy came into the world on April 20, 1991, Listen Lady has produced two unraced fillies and two unplaced colts.



Copyright © 2015 The Blood-Horse, Inc. All Rights Reserved.