Keeneland Redesigns September Sale Format
by Blood-Horse Staff
Date Posted: 3/13/2013 12:56:19 PM
Last Updated: 9/6/2013 9:38:18 AM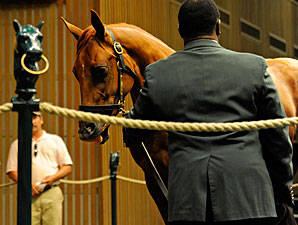 Photo: Anne M. Eberhardt
Keeneland announced March 13 it's expanding Book 1 of the Keeneland September Yearling sale across four days. The change is part of another redesign to the format of the world's largest yearling auction, which will be held Sept. 9-20.
"We continually adapt the September sale format to meet the current needs of our consignors and buyers, and these changes reflect the 'market of the moment,'" said Keeneland vice president of sales Walt Robertson in a release. "This is a two-week sale that essentially spans three distinct markets. Our goal is to facilitate the process so we can engage buyers from beginning to end."
The format for the 2013 September Sale will be as follows:
Week 1 (Book 1): Monday-Thursday, Sept. 9-12. The premier Book 1 catalog will span the entire four-day opening week. Approximately 950 yearlings cataloged alphabetically by dam. Sessions begin at noon ET daily.
Friday, Sept. 13: The traditional "dark day;" no sales will be conducted.
Weekend (Book 2): Saturday-Sunday, Sept. 14-15. Sessions begin at 10 a.m.
Week 2 (Books 3-6): Monday-Friday, Sept. 16-20. Sessions begin at 10 a.m.
"This schedule creates efficiencies, and better fits the demands of our buyers and sellers," said Keeneland's director of sales Geoffrey Russell in a statement. "The 2012 September sale was extraordinary in the sheer number of people who attended and the exceptionally high volume of trade they generated, particularly into the sale's final days.
"The strength of that second week was unlike anything we've recently experienced. These format changes will aid consignors in marketing their horses to their fullest potential, and allow buyers to better navigate today's highly competitive market," Russell said.
2012 September Results Compared to 2011

2012 Sept

#Offered
#Sold
RNA Rate
Average

% Change from 2011

Median

% Change from 2011

Books 1-2; Sept. 10-13

918

655

28.6%

$202,829

+5.1%

$150,000

0%

Book 3; Sept. 15-16

742

577

22.2%

$82,177

+14.1%

$65,000

+33%

Book 4-6; Sept. 17-21

1,454

1,284

11.6%

$30,727

+32.2%

$22,000

+57.1

Total

3,114

2,516

19.2%

$87,330

+14.1%

$45,000

+50%
Copyright © 2015 The Blood-Horse, Inc. All Rights Reserved.