Eight States Commit to Uniform Drug Rules
Updated: Wednesday, March 13, 2013 1:20 PM
Posted: Tuesday, March 12, 2013 4:36 PM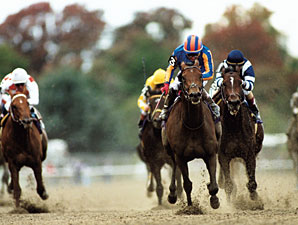 Photo: Anne M. Eberhardt
Horse Racing
In a move supporters believe is a step toward the uniform regulation of medication and drug testing in North American racing, the regulators of eight states in the Northeast region have committed to a uniform medication and drug testing program.
The agreement announced on Tuesday, March 12, was spearheaded by the Thoroughbred Horsemen's Association (THA). It represents a dramatic change in medication regulation and testing and the THA believes it could pave the way for national uniformity. The participating states--New York, New Jersey, Pennsylvania, Delaware, Maryland, Virginia, West Virginia, and Massachusetts--will implement the Mid Atlantic Uni­form Medication Program.
"The largest concentration of racing in the United States on a daily basis is conducted in the Mid-Atlantic and Northeast. Some 18 racetracks operate within a 200-mile radius," said THA chairman Alan Foreman in a release. "Many horsemen race in more than one state and, in some instances, on the same day. There is no region in the country where uniformity is more imperative than in the Mid-Atlantic and Northeast. The horsemen have been asking for this for years, the time has come, and we are finally in a position to do it."
The program divides medications into two new catego­ries--controlled therapeutic substances and prohibited substances. The controlled therapeutic substances category will limit horsemen and veterinarians to 24 medica­tions that have been recognized as appropriate for therapeutic use in racehorses to treat illness or injury.
These therapeutic medications were identified following intensive consultation among the American Association of Equine Practitioners (AAEP), the Racing Med­ication and Testing Consortium (RMTC), the Association of Racing Commissioners International (ARCI), and the industry's chemists and pharmacologists. These medi­cations will each have a specific published restricted administration time and uniform laboratory detection level which, when combined, will enable the therapeutic treat­ment of the horse while ensuring that no pharmacologically significant residue of the medication will be present in the horse during a race.
"The NTRA salutes the many organizations and individuals who worked on this important initiative," said NTRA president Alex Waldrop. "The program creates an eminently viable blueprint for national uniformity of medication rules and drug testing, and the NTRA Safety and Integrity Alliance will do everything in its power to ensure its implementation."
The controlled therapeutic substances are: acepromazine, betamethasone, butor­phanol, clenbuterol, dantrolene, detomidine, dexamethasone, diclofenac, DMSO, firocoxib, flunixin, furosemide, glycopyrrolate, ketoprofen, lidocaine, mepivacaine, methocarbamol, methylprednisolone, omeprazole, phenylbutazone, prednisolone, procaine penicillin, triamcinolone acetonide, and Xylazine.
The presence of these and any other medication or drug in a sample collected from a horse will be strictly prohibited. Delaware Thoroughbred Racing Commission Chairman Duncan Patterson, who also is the current ARCI chairman, hopes other states join.
"This is indeed a historic moment for racing and long overdue," Patterson said in a release. "It demonstrates that the rac­ing industry has the means and wherewithal to join together to protect the integrity of our sport and the welfare of our horses. I urge all racing jurisdictions outside the region to immediately join in this effort so that we can achieve long-elusive national medication and drug testing uniformity."
The testing laboratories of the participating states will uniformly test for these sub­stances using the same state-of-the-art technology and levels of detection. To en­sure that the laboratories will be working uniformly and to the highest standard, each participating state will commit its laboratory to accreditation by the recently enacted RMTC Code of Standards for Drug Testing Laboratories.
The RMTC Code calls for laboratories conducting drug testing of equine samples to adhere to even stricter requirements than those mandated by international drug testing standards currently in place. It is specifically tailored to laboratories conducting equine drug testing. These laboratories also will begin participation in the RMTC's External Quality Assurance Program as a condition of accreditation.
"I am extremely grateful to the THA member groups for taking the lead on this critical initiative and to the ARCI, RMTC, AAEP, The Jockey Club, and other industry organizations for their collaborative approach and support to make this a reality," Foreman said.
Under the Program, furosemide (Salix, also referred to as Lasix) will be the only medication permitted to be administered to a racehorse on race day. The regulators in the participating states have agreed to implement strict controls on the administration of this medication, including the requirement that it be administered uniformly and only by commission designees.
Of particular note, the administration of clenbuterol will not be permitted within 14 days of a race. The intra-articular administration of a corticosteroid will not be per­mitted within seven days of a race. In this regard, horsemen and veterinarians will be specifically cautioned against the use of methylprednisolone acetate (DepoMedrol) within 21 days of a race.
The participating states are awaiting final approval of the restricted time limits and uniform detection levels for the 24 therapeutic medications by the RMTC and ARCI boards, which is expected by April 1. Each state will direct its testing laboratory to apply for RMTC Code Accreditation by April 1.
The program will require each participating state to either amend its current rules and procedures or enact statutes, depending upon how medication is regulated in the particular state. Because of the differing requirements from state to state and the need for uniform implementation, the regulators agreed to begin the adoption process im­mediately following RMTC and ARCI board approval of the controlled therapeutic substances list and have agreed to a uniform implementation date of January 1, 2014.
During the period between April 1 and December 31, the regulators will be working with horsemen and veterinarians to ensure com­pliance when implementation occurs. In addition, work is ongoing on a new penalty system that will discourage initial and repeat violations and identify repeat offenders who fail to comply with medication regulations.

FREE! E-Newsletters from The Blood-Horse!...
Follow the top stories of major racing events, racing previews and results with FREE e-newsletters from bloodhorse.com. As news develops, we'll deliver updates to your inbox. Follow important events moment by moment, step by step!