E-tote
by Blood-Horse Staff
Date Posted: 8/20/2000 10:44:49 AM
Last Updated: 8/20/2000 11:56:42 AM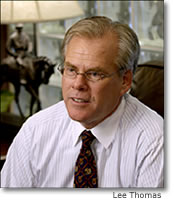 Ray Paulick
Editor in Chief


By Ray Paulick Racing is in danger of letting the technology revolution pass it by. While the rest of the business world is going digital and using broadband technology and the Internet to become more efficient, the backbone of simulcasting and pari-mutuel wagering is telecommunications, satellite uplinks, frame relay, and even something called "sneaker net"--employees in tennis shoes carrying faxes with wagering information from one office to another. In recent years, the tote companies have been unable to justify significant investment in research and development because their profit margins are so thin. Racetracks, striving to get the best deals for totalizator services, have played one company against another, resulting in low costs in the short-term but long-term challenges as simulcasting and account wagering expand. IBM Global Services, the world's largest technology consulting company, had its consultants examine the racing industry. This was done at the request of the National Thoroughbred Racing Association--and at no cost to the industry. The consultants came to the conclusion that the industry could save money, streamline business practices, and accelerate the growth of wagering through the formation of a technology company owned and operated by the NTRA. IBM has offered to finance the new company with $100 to $200 million in seed money. One element of the proposed NTRA Technologies is acquisition of an existing tote company. Autotote, which has roughly two-thirds of the share of the wagering market in North America, would appear to be the most likely target. However, there are more than a few people who worry about an industry-owned tote company. They fear an increase in the cost of services if NTRA Technologies succeeds in taking over the entire North American market. The formation of a technology company would be similar to what took place more than 10 years ago, when The Jockey Club and Thoroughbred Racing Associations of North America decided to take control of their racing data, something Daily Racing Form had compiled and owned since 1894. Today, Equibase is playing an important role, not just in providing statistical information for track programs but in making racing data available to a number of services. After a start-up loan from The Jockey Club was repaid, Equibase began paying dividends to its owners, and is a profitable company that serves the industry well. Without Equibase, privately owned Daily Racing Form would have continued its monopoly and been in a position to hold the industry hostage. Some might have feared Equibase would gouge the industry once it owned a monopoly on racing data. That didn't happen when Daily Racing Form got out of the past performance collection business several years ago. As an industry-owned company, it would have been outrageous for Equibase to gouge, just as it would be for NTRA Technologies to establish an unfair pricing structure if it controlled the totalizator market. IBM is not suggesting this new subsidiary of NTRA for charitable reasons. Its consultants see great opportunity for growth in the industry, as measured by handle. Mark Elliott, the general manager of IBM Global Services, believes racing can sustain 10% annual increases in handle over several years by transforming racing to a so-called "e-business." The technology giant would receive a small percentage of all wagers that flow through the tote system. This is a rare opportunity for our business, though getting on-board the IBM bandwagon will not be easy for some racetrack executives, who feel the current competition among tote companies is good. Looking over the horizon, however, the formation of an industry-owned technology company would be one of the smartest things Thoroughbred racing's leaders can do.



Copyright © 2015 The Blood-Horse, Inc. All Rights Reserved.