Calder Holding Hall of Fame Elections
by Blood-Horse Staff
Date Posted: 2/19/2013 11:12:40 AM
Last Updated: 2/20/2013 12:54:18 PM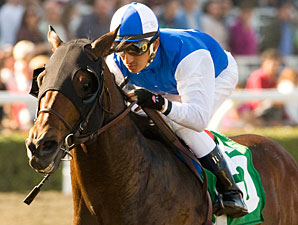 In Summation is among the horses on the ballot for Calder Casino & Race Course Hall of Fame.
Photo: Benoit Photo
After a six-year hiatus, the Calder Casino & Race Course Hall of Fame will welcome nine new members to its roster when inducting three horses, two jockeys, two trainers, and two owners/breeders as part of the Class of 2013 on Saturday, April 13.
"It is with great enthusiasm that Calder is bringing back the Hall of Fame to recognize those individuals and horses that have made lasting impressions both at Calder and at a national level," said General Manager of Racing John Marshall. "This year's inductees will join a Hall of Fame roster that already includes over 50 Calder legends that have played vital roles in shaping the tradition of Thoroughbred racing in Florida and beyond."
Among those on the ballot in the horse category are five millionaires that started their career at Calder in Blazing Sword, Express Tour, In Summation , Not Surprising, and Soldier's Dancer. Also nominated in the horse category is stakes winner and influential broodmare Lindsay Frolic, along with the brilliant Three Ring.
A special horse inductee will be selected from one of three recently retired Eclipse Award and Breeders' Cup winners that had significant ties to Calder in Awesome Feather, Big Drama, and Musical Romance.
Ballots were distributed to the voting committee and are due back in the Calder publicity office by Tuesday, Feb. 26.
The Calder Hall of Fame class of 2013 will be announced at the annual Florida Thoroughbred Breeders' and Owners' Association Florida Champions Awards Gala at the Circle Square Cultural Center Ballroom in Ocala on Monday, March 11, with the inductees to be honored at Calder on Saturday, April 13.
Complete list of nominees:
Horse: Blazing Sword, Express Tour, In Summation, Lindsay Frolic, Not Surprising, Soldier's Dancer, Three Ring; Awesome Feather, Big Drama, Musical Romance
Jockey: Gary Boulanger, Javier Castellano, Eddie Castro, Manuel Cruz, Rene Douglas, Eduardo Nunez, Jose Santos, Cornelio Velasquez
Trainer: Manuel Azpurua, Reed Combest, Daniel Hurtak, Kathleen O'Connell, Richard Root, Bennie Stutts, Jr., David Vivian
Owner/Breeder: Francis W. Ballou, Donald Dizney, Jacks or Better Farm, Inc., Monarch Stables, Inc., Bernard and Bea Oxenberg, J. Mack Robinson, Rose Family Stable, Joel Sainer

Copyright © 2015 The Blood-Horse, Inc. All Rights Reserved.