Fee Follies: Breeding at the Right Level
Updated: Thursday, January 17, 2002 4:29 PM
Posted: Tuesday, January 15, 2002 11:44 AM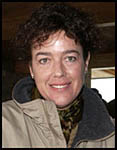 Photo: Anne M. Eberhardt
Suzi Shoemaker: "People overestimate how much they should pay."
Published in the Jan. 19 issue of The Blood-Horse
The late John M.S. Finney once compared the science of Thoroughbred breeding with Albert Einstein's theory of relativity. "Where E represents equine investment," Finney said, "M represents money, and C represents confusion--E equals MC squared." It probably was Einstein's familiarity with the formula, Finney added, that kept the scientist out of the Thoroughbred business and elevated him to the status of genius. The ever-pragmatic Finney, who chaired Fasig-Tipton Co. for years before forming a bloodstock agency, developed his own theories and formulas. One of them was designed to appraise the value of a yearling based on a mare's value and the cost of a stud fee put into her. That theory, where Y represents the market value of the yearling, S the value of the stud fee or season, and M the value of the mare, is as follows: Y equals two times the sum of M divided by five plus S (Y=2x [M÷5+S]). In other words, a yearling is projected to be worth one-fifth a mare's value, plus the stud fee, multiplied by two. Finney had two key assumptions in his formula: that the foal be at least of average conformation and acceptable as such to the commercial market; and that the mare neither be overbred nor underbred through stud fees that are too high or low. Speaking at an industry conference in 1990, Finney said: "If the mare is overbred or underbred to too great an extent, the market will not, in most cases, pay the normally predictable price for the resulting yearling. My experience indicates that the operative commercial parameters are that the market value of the semen should be not less than one-fifth nor more than one-half the value of the mare as a piece of production machinery independent of the value of any fetus she may be carrying." Finney referred to the Hirsch Jacobs dispersal of the mid-1960s as an example of an imbalance between the value of the mare and the stallion season. "Jacobs built his success by breeding mainly from his own claiming mares, and he was never particularly concerned with market considerations because he raced his own stock," Finney said. "He therefore had no misgivings about breeding his outstanding homebred stallion Hail to Reason to a number of mares who had run for modest claiming tags in New York. Hail to Reason commanded a very high stud fee at the time, and I assumed that any passable yearling by him would be worth at least twice the stud fee. We had a distasteful collision with reality when a number of the Jacobs yearlings, which were all acceptable physically, realized less than the stud fee. The lesson learned was that the people who actually paid Hail to Reason's fee would never have bred him to such moderate mares. Jacobs had stepped outside acceptable market parameters, and the public would not pay." Jacobs, the Hall of Fame trainer and highly successful breeder and owner, didn't invent overbreeding. And the commercial failure of his dispersal didn't stop others from doing the same thing. During last November's breeding stock sale at Keeneland, the number of mares that sold for prices less than the stud fees they were carrying hit an alarming 24%, suggesting many people are going outside commercial market parameters. "The market has made us overbreed our mares," said Henry White, who served as an adviser to such homebreeding operations as Rokeby Stables, and also has bred for the commercial market at his Plum Lane Farm in Kentucky. White was referring to the rising yearling prices of the 1990s that particularly rewarded breeders of horses sired by high-priced stallions. "We are still paying for the overbreeding and overproduction of the 1980s," he said. "If a filly had 10 cents worth of pedigree, they went straight into the breeding shed." White recalled two clients he helped buy a mare for $30,000 in foal to a stallion with a $10,000 fee. After the foal was born, the partners decided to spend $35,000 for a stud fee and sell the mare, and they were disappointed with the result. Headley Bell, who operates Nicoma Bloodstock in Lexington, agreed that overbreeding occurs in a rising market. "But I don't think it's rising anymore," he said. "Before the November sale, the market was forgiving about overbreeding," Bell said. "I think it has corrected itself." Bell said his rule of thumb is not to send a mare to a stallion whose stud fee is more than one-fifth the value of the mare. "With younger mares I'll tend to be a little more aggressive, and then back it down." Bell advises both private breeders and commercial operations and said there is a difference in planning matings for the two types of programs. "Whether it's commercial or private," he said, "you have to remember that the first objective is to breed a racehorse." "In the commercial market, you have to have a mare with pedigree and conformation," said White. "But private operations can get away with crooked legs." Peter Pegg of Pegg Thoroughbred Consultants in Virginia said large stallion books and greater emphasis on the commercial market have led to an increase in overbreeding. "If you have a stallion that should cover 70 mares and you bump him up to 140, he's not going to get the same quality of mare. And if you have a yearling with below average conformation that's been overbred to that kind of stallion, you couldn't give them away. "In its September sale," Pegg added, "Keeneland assigns what day a yearling sells largely because of stud fee. By overbreeding their mares to higher-priced stallions, people think they'll get a better shot at selling early in the week and subsequently get a higher price. This is part of the system. But you've got a better chance of making money if you stay within guidelines that would have a mare worth $125,000 empty (not in foal) going to a stallion with a $25,000 fee, not $50,000." Suzi Shoemaker of Lantern Hill Farm in Kentucky said one of her biggest challenges is convincing clients to spend less on stud fees than they would like to. "In general, people overestimate how much they should pay," Shoemaker said. "I had a client who owned a $100,000 mare that he wanted to breed to a $200,000 stud fee. Another one had a $10,000 mare that he wanted to breed to a $100,000 fee because it was a good nick. This particular stud manager would have booked the mare, too, because they were just interested in getting the stud fee."
Continued...
FREE! E-Newsletters from The Blood-Horse!...
Follow the top stories of major racing events, racing previews and results with FREE e-newsletters from bloodhorse.com. As news develops, we'll deliver updates to your inbox. Follow important events moment by moment, step by step!