Our Dani, Dam Of You, Brings $625,000 At Keeneland
by Deirdre B. Biles
Date Posted: 1/8/2002 7:44:12 PM
Last Updated: 1/10/2002 9:16:28 PM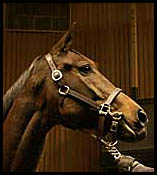 Our Dani, the dam of You, topped Tuesday's Keeneland sale session.
Photo: Anne M. Eberhardt

Our Dani, the dam of grade I winner You, topped the second session of Keeneland's January horses of all ages sale when her price soared to $625,000 on Tuesday. The buyer was Horse France's Robert Nataf, who said he outlasted another bloodstock agent, Michel Zerolo, in the battle for the 9-year-old winning daughter of Homebuilder. Both men made their offers from behind the auction stand, in the area where the horses enter the sale ring. Nataf said afterward that he was representing a European syndicate."The price was in the region that we thought," Nataf said. "How often can you get a group I (producing) mare for a good price, but not an outrageous price? She is a good-looking mare."Our Dani was consigned to the sale by Lane's End, which was representing the University of Louisiana at Monroe (ULM). The school's equine program received the mare as a gift in October of 2000 from Dolphus C. Morrison of Alabama. University officials recently have been under fire from Louisiana officials for financial problems that led to an unfavorable audit and sanctions by a university accreditor.Offered without a reserve, Our Dani was sold in foal to In a Walk, a son of Chief's Crown who was donated to the school after being injured at Belmont Park in 1992. In a Walk won only one of his 11 races, but he finished second to Lure in the latter's track-record-breaking debut (five furlongs in :56.30 at Belmont Park). Nataf said Our Dani's new owners would probably race her offspring by In a Walk and that she would be bred to a more commercial stallion in this country this year.You, the first foal produced from Our Dani, won last year's Frizette (gr. I) and Adirondack (gr. II) Stakes. The daughter of You and I also finished second in the Hollywood Starlet Stakes (gr. I)."We're very, very happy; the price was about twice as much as we expected to get," said Tami Lewis, an assistant professor who teaches equine courses and manages ULM's horse farm. "It's a big honor, probably a once in a lifetime thing for us."Lewis did not attend the Keeneland auction. She and her students watched Our Dani sell via a computer. They held a contest to guess how much money the mare would bring."We each put a dollar into the kitty," she said. "The winner guessed $450,000."While the state of Louisiana will get a portion of Our Dani's proceeds, the ULM's Department of Agriculture also will benefit financially, according to Lewis. The money will be shared by the school's horse farm, cattle farm, and row crop farm.In all, 269 horses were sold for gross revenue of $11,260,600, an average price of $41,861, and a median price of $20,000. Compared to last year's second session, the number sold was up by 20.6%, but the gross, average, and median fell by 28.6%, 40.8%, and 28.6%, respectively. The buy-back rate was only 14.9%, down from 25.7% in 2001. (The above figures do not include a stallion share in Fit to Fight that sold for $1,200.)Through two sessions this year, 511 horses have sold for a gross of $29,172,400, an average of $57,089, and a median of $22,000. The number sold and gross were up by 20.5% and 6.3%, respectively, from last year, but the average and median were down by 11.8% and 18.5%, respectively.The buy-back rate during this year's first session was 17.1%, down from 31.9% in 2001.Even though Tuesday's session was not as strong as Monday's (when number sold, gross, and average increased), many consignors were still upbeat, saying the results were better than anticipated. Setbacks were expected because the catalogue lacked quality and numbers, with mare reproductive loss syndrome being a major factor in the changes from a year ago. Worries about the economy also lowered expectations."People want to sell horses, and they were conservative with their reserves to make it happen," said David Mullins of Doninga Farm. "At the same time, there are plenty of people here to buy horses. I think the market was shocked in September and November by the Sept. 11 terrorist attacks. Now, I think it has finally gotten over that. People have readjusted, and they want to continue to participate in the horse business."



Copyright © 2015 The Blood-Horse, Inc. All Rights Reserved.