Hey Mon, He's the Leading Second Crop Sire
by Leslie Deckard
Date Posted: 1/8/2002 4:50:20 PM
Last Updated: 6/18/2002 7:24:15 PM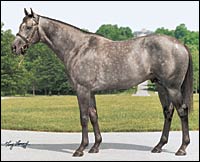 Maria's Mon emerged on top the leading second-crop sire list.


Published in the Jan. 12 issue of The Blood-Horse
The race to determine the leading second-crop sire of 2001 came down to a photo finish between Maria's Mon and Unbridled's Song. At the wire, it was Maria's Mon edging Unbridled's Song by a mere $51,566 to take the title. Maria's Mon finished the year with 47 winners, including seven stakes winners and total progeny earnings of $3,870,550. Unbridled's Song, who stands at the Taylor family's Taylor Made Farm near Nicholasville, Ky., was represented by 32 winners, including five stakes winners. His runners collectively earned $3,818,984. Maria's Mon began his stallion career in 1997 for Josephine Abercrombie's Pin Oak Stud and his owners/breeders, the Morton Rosenthal family. He now is also owned in part by Robert and Janice McNair's Stonerside Stable and William T. Young's Overbrook Farm. Young bought his interest the day Monarchos, the leading earner of 2001 for Maria's Mon, won the Florida Derby (gr. I). For his first four seasons, Maria's Mon stood for $7,500. His fee was bumped to $12,500 for 2001. He will stand the 2002 season at Pin Oak near Versailles, Ky., for $35,000. In 2001, Maria's Mon was bred to 125 mares and his book is closed for 2002 with just over 100 mares. "Ms. Abercrombie's philosophy has always been to keep stud fees reasonable to let the breeders make money. She also keeps the book relatively small to ensure the right mare is bred to the correct stallion," said Clifford Barry, Pin Oak farm manager. "His book increased last year due to mare reproductive loss syndrome (MRLS) and some late breedings but we initially kept it small this year, even with his increased popularity, like we do with all our stallions." Kentucky Derby (gr. I) winner Monarchos, who was bred in Kentucky by Jim Squires and earned $1,711,600 in 2001, is from his sire's first crop. Few stallions have sired a Derby winner in their initial crop; the last one before Maria's Mon was Unbridled. A grandson of 2001 leading broodmare sire Mr. Prospector, Unbridled was represented by 1996 Derby winner Grindstone. Monarchos, who races for John and Debby Oxley, ran the second-fastest Kentucky Derby ever in 1:59.97--behind the 1:59 2/5 set by Secretariat in 1973--to finish 4 3/4 lengths ahead of Invisible Ink. He also finished second in the Wood Memorial (gr. II). He finished the season with a third-place finish in the Belmont Stakes (gr. I). The John T. Ward Jr.-trained Derby winner was sidelined in early July after suffering a knee injury. Monarchos has resumed training and is expected to make his 4-year-old debut in the Donn Handicap (gr. I) Feb. 9 at Gulfstream Park. Additional 2001 stakes winners for Maria's Mon were Silver Tornado, who won the Reeve Schley Jr. Stakes (gr. IIIT) at Monmouth Park; Wander Mom, winner of the Coconut Grove Stakes at Hialeah Park; Lil Punkindo, who won the Peach Blossom Stakes at Delaware Park; Wedlock, winner of the Vincent A. Moscarelli Memorial Stakes at Delaware Park; Lucky Bluff, winner of the Ruidoso Thoroughbred Derby at Ruidoso Downs; and Moonmon, who won the Prevue Stakes at Remington Park. "He gets athletic and sound individuals who are precocious as 2-year-olds but who can stretch out to Derby distances like Monarchos," Barry said. "Over the past two years the quality of his book of mares has been exceptional. He is attractive to commercial breeders and I think over the next few years his average inside the sales ring will continue to increase." The 2001 yearling sales average for Maria's Mon was $87,043. Nineteen colts passed through the sales ring with an average of $128,447 and 16 fillies averaged $37,875. Maria's Mon, who was trained by Richard Schosberg, won his debut by 10 1/2 lengths July 4, 1995, at Belmont then took the Sanford Stakes (gr. III) and finished third in the Hopeful Stakes (gr. I). He won the Futurity (gr. I) and Champagne Stakes (gr. I) before injury struck. While being readied for the Breeders' Cup Juvenile (gr. I) at Belmont, Maria's Mon suffered a non-displaced condylar fracture of his left front cannon bone that ended his juvenile season. Unbridled's Song went on to win that year's Breeders' Cup Juvenile, but Maria's Mon ended the year with divisional championship honors. Maria's Mon and Unbridled's Song were both weighted at 126 pounds to top the 1995 Experimental Free Handicap. In April 1996, Pin Oak purchased a half-interest in Maria's Mon and it was decided he would enter stud there. He returned to the track the following summer but lost in his only two starts. He was retired after a sixth-place finish in the Jim Dandy Stakes (gr. II) at Saratoga. Maria's Mon retired with earnings of $507,140 and a record of 4-1-1 from seven starts.    



Copyright © 2015 The Blood-Horse, Inc. All Rights Reserved.