'Sopranos' Mob Takes Over Aqueduct
by Steve Haskin
Date Posted: 1/7/2002 4:41:15 PM
Last Updated: 1/17/2002 2:07:12 PM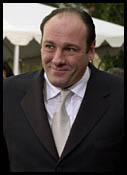 Actor James Gandolfini was among the cast from "The Sopranos" at Aqueduct Monday.
Photo: Associated Press

Cast members of the megahit HBO series "The Sopranos" were at Aqueduct Racetrack Monday taping an episode to be aired during next season's schedule. Among the more notable stars present in the Equestris dining room, where the scenes were shot, were James Gandolfini, who plays Tony Soprano, Steve Van Zandt, who plays Silvio,Joe Pantoliano, who was cast last year as Ralph, and Jerry Adler, who plays Hesh.Three scenes were shot, with the main focus being the running of a race, in which Tony has an interest in a horse named Pie-O-My, and Ralph a $5,000 wager on the horse. Jockeys have been called many things by irate bettors, but few can compare to Ralph's R-rated description of the rider on Pie-O-My during the running of the race. The only live action on the track was a brief parade of horses shown as background on one of the shots.HBO has been pretty tight-lipped regarding the plot of the episode, although NYRA officials did have access to the script to make sure it was in the best interests of the sport.Some of the crew began arriving at Aqueduct at 2 a.m. to check out locations and put up signage. The crew call was at 6:30, with rehearsal beginning at 7. In order to simulate a real race and a crowded Equestris, 75 extras were placed in strategic locations. Odds were placed on the tote board, a race was shown (with a new call) on the Jumbotron board and on TV monitors that was selected from five choices supplied by NYRA, and a toy horse head mounted on a stick was moved in synchronization with the race for the actors' eyes to follow. We won't give the result of the race away.One actor who was taken with the racetrack scene, even though it was a fabricated one, was Pantoliano, who has appeared in dozens of top hits, such as Risky Business, Empire of the Sun, Eddie and the Cruisers, and Midnight Run. "Racing's never been my game," he said, 'but it looks like a lot of fun. After this, I would definitely come back and bring a bunch of friends, lose 30 or 40 bucks."The episode, which is expected to air sometime in September or October, was written by Mitch Burgess and Robin Green, and directed by Henry Bronchtein. The following week the show was on location at Monmouth Park.



Copyright © 2015 The Blood-Horse, Inc. All Rights Reserved.