After Four Decades, Trainer Schulhofer Retires
by Steve Haskin
Date Posted: 1/3/2002 2:47:50 PM
Last Updated: 1/4/2002 2:44:41 PM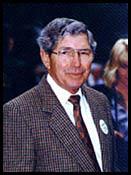 Scotty Schulhofer, Hall of Fame trainer retires.


After four decades as a trainer, Flint (Scotty) Schulhofer has officially announced his retirement, although he still will be a daily visitor at the barn, which will now be run by his son and long-time assistant Randy."This is something Randy and I have been planning for a year," the 75-year-old Schulhofer said. "He's been doing the training anyway for the past year, and it's time he got credit for it. I'll be watching and helping out, but it's only right to have his name down as trainer. I'm just basically backing off.""Dad is by no means getting away from racing," Randy said. "He's just decided to sit back and let me handle the day-to-day headaches. I think it'll be a good changeover."Schulhofer plans to keep busy playing some golf, and he does have a few broodmares at Stone Farm in Paris Ky. and owns "lots of breeding rights."Schulhofer was born and raised in Aiken, S.C., and was introduced to racing, working for Oleg Dubassoff when he was 17. During World War II, he served in the 94th division infantry on the front lines in Germany. Following the war, he attended The Citadel, a military college in South Carolina, before returning to work for Dubassoff. He eventually rode jumpers from 1950 to 1962, suffering numerous broken bones, then turned his attention to training, saddling his first winner at Aqueduct in 1962.He got his big break when John Nerud decided to retire and handed Schulhofer the Tartan Stable horses, including the great sprinter Ta Wee. Since then, he saddled champions Mac Diarmida, Fly So Free, Smile, Rubiano, and Lemon Drop Kid, who along with Colonial Affair captured the Belmont Stakes for Schulhofer. In 1992, Schulhofer was inducted into the Hall of Fame.



Copyright © 2015 The Blood-Horse, Inc. All Rights Reserved.