Trainer Robbins Adjusts to Life Without Tiznow
Updated: Wednesday, January 2, 2002 8:19 AM
Posted: Monday, December 31, 2001 12:32 PM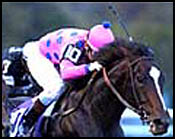 Photo:
Tiznow, Jay Robbins-trained Horse of the Year and two-time Classic winner who has been retired.
Published in the Jan. 5 issue of The Blood-Horse
He sits back at his desk, staring out the window and into his thoughts. "Right now, we're about as down as we've been in a long time. We don't have much here," the trainer remarks candidly. "Yeah, this is gonna be slow for a while." The stable hands carry out their duties quietly, though activity in a five-horse barn is decidedly minimal. The phone no longer rings off the hook. Reporters, once a constant, now chase stories elsewhere. There are very few hints, in fact, that just weeks ago, this was home to every trainer's dream. The vicissitudes of racing are quite apparent these days at the Santa Anita stable of Jay Robbins. Now, as a new year dawns, the departure of reigning Horse of the Year Tiznow has left a hole that is impossible to fill. "Jay misses him an awful lot. He was a huge presence in his life," Robbins' wife, Sandy, said recently. "For the last two years, Jay just sprang out of bed. You know, Jay works seven days a week, and he's not had a day off in I don't know how many years. The last two years, because he had Tiznow there at the barn, it just made getting up at four o'clock worthwhile. Now there's a little less spring in his step at four o'clock." As the only man to ever train a two-time winner of the Breeders' Cup Classic (gr. I), the 56-year-old Robbins could conceivably rest on his laurels and instead devote his life to golf. But then, that's not his style. Hard working yet soft spoken, with roots planted deep into California racing, Robbins is far from a one-hit wonder. Tiznow was simply a drawn-out demonstration of the patience and meticulous skill that have long been hallmarks of his approach. "Jay does a remarkable job with all his horses. He's a very good caretaker," said jockey Chris McCarron. "There's not a lot of fancy stuff he does. He's very traditional in his treatment with horses. More specifically, the job he did with Tiznow was impeccable. Absolutely impeccable." Training was a natural evolution for Jack Miller Robbins. Early on, his days were often spent traversing the Santa Anita backstretch with his father, renowned veterinarian Jack Robbins. In 1956, the elder Robbins moved his family to nearby Thousand Oaks, Calif., where they settled down for a new life at Conejo Ranch, a 10,000-acre spread owned by real estate developer and horse enthusiast Edwin Janss Jr. The change of scenery introduced Jay, just 10 and the oldest of four boys, to a unique opportunity--the chance to grow up on a full-facility breeding and training farm. An animal lover at heart, Robbins characterizes his youth as "quite a bit of sports, not a lot of studying," though admittedly he spent hours in Janss' equine library, poring over bloodlines and searching for broodmare prospects. He was naturally drawn to horses, learning horsemanship first-hand under Conejo's ranch manager, Gene Cleveland, as well as Bill Walters, who oversaw the farm's training center. Predictably, the experience at Conejo--and later Laguna Seca Ranch in Northern California--gave young Robbins a wealth of insight. Years of observation at his father's side proved to be an advantage, as well. "Yeah, a big advantage," Robbins pointed out. "My father was always considered to be one of the foremost veterinarians in the industry in the diagnosis of soundness, and that, obviously, was very beneficial. You'd see a lot of different types of unsoundness, because he worked for so many farms, so many horses were under his care. You just learned to recognize what was wrong. That was a great education." As it turned out, the Robbins boys all took after their father in one way or another. Don Robbins became a lawyer and once served as president of Hollywood Park. David, also a lawyer, once practiced law with famed equine attorney Neil Papiano. But it was Jay and his youngest brother, Tom, who would become the most heavily involved in the horse business. While Tom went on to hold various administrative positions in the industry, including his current post as director of racing at Del Mar, Jay found his true calling on the backstretch. It was while working with trainer Noble Threewitt that Robbins claimed his first horse, Kenavo, commencing a career that has now spanned more than three decades. Until Tiznow, his most gratifying moments came with Nostalgia's Star, a mud-loving stayer owned in part by his mother, Maggie. Robbins had liked the son of Nostalgia from the outset, and after the 2-year-old colt won a small stakes at Los Alamitos, he convinced his father to take a closer look. The asking price was $95,000. Dr. Robbins soon gave his son the thumbs up. Over the next four years, the "family horse" turned into a gold mine, banking over $2.1 million in some of the country's top handicap events. Among his finest moments was a triumph in the 1986 Charles H. Strub Stakes (gr. I). Flying Continental soon picked up where Nostalgia's Star left off, giving Robbins a second Strub in 1990 and adding the Jockey Club Gold Cup (gr. I) for good measure. Paralleling Nostalgia's Star, the son of Flying Paster himself earned over $1.8 million. "They were the most accomplished," Robbins noted. "Stylish King was probably the most talented." By the early '90s, Robbins had already trained two of the richest California-breds ever. Soon after, he took successive runnings of Oak Tree's Goodwood Handicap (gr. II) with Reign Road and Lottery Winner. Yet the one he thought held the most promise of all was Stylish King. The son of Roberto had walked into Robbins' barn a few years back with a reputation as the cream of an Elmendorf Farm crop of 2-year-olds. Over time, he did little to quell the enthusiasm. Word of mouth soon caught the attention of friend and fellow trainer Eddie Gregson, who approached Robbins one day prior to Stylish King's first outing. "I hear you got a colt by Roberto that can run," Gregson said. "Yeah," replied Robbins, "I think so." "Let me tell you something about a Roberto," Gregson warned. "They can flip out any time." As far as Stylish King was concerned, Gregson hit the nail on the head. He at least looked the part when he trounced maidens in his debut, but an odds-on flop in his next start foreshadowed a rocky future. Stylish King's nerves, it turned out, were too frayed for his own good, and despite his best efforts, Robbins couldn't relieve the colt's anxiety. "It got to the point finally he'd get through the paddock bone dry, but as soon as he stepped on the racetrack, he started sweating profusely," he explained. "And I kept thinking about what Eddie told me. But he was really talented. I'm not even sure--Stylish King might have had more ability than Tiznow."
Continued...
FREE! E-Newsletters from The Blood-Horse!...
Follow the top stories of major racing events, racing previews and results with FREE e-newsletters from bloodhorse.com. As news develops, we'll deliver updates to your inbox. Follow important events moment by moment, step by step!