Handle, Attendance Show Increase at Saratoga
by Blood-Horse Staff
Date Posted: 9/3/2012 8:23:47 PM
Last Updated: 9/6/2012 6:36:57 PM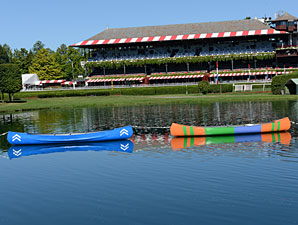 Two canoes patrol the infield pond at Saratoga.
Photo: NYRA
The 144th Saratoga Race Course meet came to end Sept. 3 with the track reporting across-the-board gains in average daily handle.

Daily average attendance for the 40-day meet was 22,526, up 0.8% from 22,353 for 39 days in 2011. Total attendance was 901,033, up 3.4% from 871,772 in 2011.

On-track handle had a daily average of $3,207,356, an increase of 3.3% from $3,105,171 in 2011. Total on-track handle was $128,294,220, up 5.9% from $121,101,665 last year.

Daily average all-sources handle, which includes wagers on Saratoga races both on-track and from simulcast facilities nationwide, was $14,708,799, up 9.0% from $13,493,636 last year. Total all-sources handle was $588,351,964, an increase of 11.8% from $526,251,819 in 2011.

On-track handle combining wagering at Saratoga with wagering downstate at the Belmont Café and the Aqueduct simulcast center averaged $3,765,950 daily, up 4.7% from $3,596,862 last year. Total combined on-track handle was $150,637,998, an increase of 7.4% from $140,277,616 in 2011.

There were 417 races run during this year's stand compared to 397 in 2011. Average betting interests per race were 8.4 (3,492 total) compared to 8.2 (3,269 total) in 2011. Turf races totaled 197 with 27 taken off the turf and moved to the main track, compared to 158 on and 41 off in 2011.
According to The Jockey Club Information Systems, Saratoga purses totaled $37,812,860, up considerably from the $26,855,100 distributed in 2011.

Average field sizes were up slightly this year, to 8.44 runners per race from 8.31 a year ago, and average fields for 2-year-old races were down from 8.28 in 2011 to 7.7 this year, according to TJCIS.

This year, NYRA limited the field size of 2-year-old maiden races at sprint distances to eight starters, with a limit of 10 starters per race for two-turn juvenile maiden races.

The track said the meet was highlighted by strong wagering gains, robust attendance, top quality racing, a number of new and innovative fan initiatives, continued television coverage from the NBC Sports Group and the MSG Networks, and an unprecedented level of community involvement.

"This year's Saratoga meet was extremely successful on so many fronts," said Ellen McClain, NYRA president and chief operating officer. "The quality of our racing product was unparalleled, with 35 graded stakes races highlighted by the exhilarating dead heat between Alpha and Golden Ticket in the Travers (gr. I).

"Our customers responded to our racing with great enthusiasm, resulting in handle increases on-track and around the country. Additionally, we introduced a number of new fan initiatives that were very well received and we hosted the industry's first ever social media day. We were also proud to continue our role as a dedicated partner to the local community and many important charities."

Copyright © 2015 The Blood-Horse, Inc. All Rights Reserved.