Full Accounting
by Ray Paulick
Date Posted: 12/18/2001 9:48:22 AM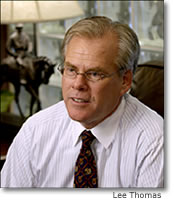 Ray Paulick
Editor-in-Chief


The federal government that has worked so well in the United States for over 200 years was built in part on a system of checks and balances, the idea being that no one branch of government should be allowed to dictate policy. Horse racing may not be democratic to the extent that our government is, but it does have checks and balances designed to prevent one segment of the industry from dictating to others how the business will be run. This is especially true regarding interstate simulcasting, which now accounts for the vast majority of total pari-mutuel handle. The Interstate Horse Racing Act of 1978 permits a betting system in one state to accept wagers on a race run in another state, but only with permission of the track that is hosting the race and the representative horsemen's organization at that location. The federal statute was necessitated when New York City Off-Track Betting began accepting wagers on the Kentucky Derby without paying anything to Churchill Downs or Kentucky horsemen. From time to time, local horsemen's organizations have flexed their muscles to get a better simulcast deal for themselves. They have also used their statutory rights to block a simulcast signal when they felt tracks at the receiving end were doing such things as offering rebates to bettors. No group is more aware of horsemen's rights than the Thoroughbred Owners of California, which wrested power to negotiate purse and simulcasting contracts away from the Horsemen's Benevolent and Protective Association in 1994. Though perhaps not perceived to be as militant in the area of owners' rights as they once were, the TOC board, headed by chairman Jack Owens and president John Van de Kamp, stepped forward on Dec. 15 to make a very important statement about account wagering. Legislation permitting this activity, which includes telephone and Internet betting, was signed into law recently by Gov. Gray Davis, who vetoed a similar bill in 2000. Technically, account wagering in California will be legal Jan. 1, but it won't begin until the California Horse Racing Board grants licenses to account wagering companies, which cannot be done without the approval of the TOC. In a Dec. 15 open letter published as an advertisement in Daily Racing Form, TOC sent a reminder to tracks and potential account wagering operators that owners "have proprietary rights to the collective image of racing." TOC further said it intends to "exercise and protect those rights" in negotiations involving account wagering licensing and contracts. The TOC said its priorities in account wagering are for broad distribution of California's signal using cable, satellite, wireless technology, and the Internet; high quality image transmission; access to all California signals so fans can bet on any California track through one account; protection against bettor poaching and rebates; and fair distribution of revenue from account wagering. As the TOC letter said, horse owners are a "full partner" in this venture with tracks and the account wagering operators. TOC said it intends to "vigorously pursue" the aforementioned priorities in contract negotiations. TOC's statement is interpreted here as a warning for Frank Stronach's Magna Entertainment, the owner of Santa Anita Park, Golden Gate Fields, and Bay Meadows, to return to the negotiating table in search of an equitable agreement with the Television Games Network. TVG has exclusive broadcast agreements in California with Hollywood Park, Del Mar, Oak Tree at Santa Anita, Fairplex Park, and Los Alamitos, and at many other tracks throughout the country. Horse owners are fortunate that the horse racing industry has a system of checks and balances similar to our government. In a sense, this is democracy in action.



Copyright © 2015 The Blood-Horse, Inc. All Rights Reserved.