Hidden Prize Colt Wins South America's Biggest Race
Date Posted: 12/17/2001 8:32:46 AM
Last Updated: 12/17/2001 1:44:55 PM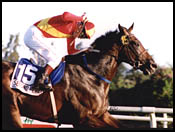 Second Reality, winning South America's biggest race, may be bound for the U.S.
Photo: Silvana Daniel

By Michael Burns
Second Reality, the pride of La Plata, stamped himself as Argentina's national hero. How did he achieve this stature? Easily, by outclassing 15 rivals in the 113th edition of the $172,000 Gran Premio Internacional Carlos Pellegrini (Arg-I, 2400 meters), South America's most prestigious race Saturday at Hipodromo San Isidro racecourse, near Buenos Aires.This year's version of the Pellegrini, a race named after the founder of the Argentinian Jockey Club, had a different taste for a pair of reasons. One is the critical economic crisis the country is struggling through, and secondly, because Saturday's running of the Pellegrini commemorated the 50th anniversary of the victory of Yatasto, Argentina's turf emblem.Nothing could detain the passion that the Argentinian race fans feel for the sport, not even the lack of money in people's pockets or discouragement for the difficult situation of the country. Nevertheless, the running of the Pellegrini made people forget their troubles momentarily and brought back a festive ambience supported by the important presence of a large and enthusiastic crowd. The more than 38,000 on hand wagered more than $1.5 million.This year's running of the Pellegrini had one star: Second Reality. Rodolfo Cariaga's trainee ran a brilliant race, defeating Bat Ruizero by two lengths, with favorite and paceetter Ice Point weakening to fifth. Second Reality covered the 12 furlongs in 2:22.37, only two fifths off 1999 Asidero's record. By Mr. Prospector's son Hidden Prize, Second Reality now stands as a likely choice to be name Argentina's Horse of the Year.Bred by Carlos Lago's Haras Orilla del Monte, Second Reality scored his third consecutive group one victory in his first attempt on the turf and first outside his backyard, Hipodromo La Plata.The bay 3-year-old colt has amassed a record of eight wins in 11 starts for Matías Ruisanchez's Stud El Asturiano, which paid $7,000 for him as a 2-year-old from Haras Orilla del Monte's public auction. With a career bankroll of $237.600, Second Reality could very possibly be heading to the U. S. to continue his campaign next season as it was announced by his owner that he has received several important offers.Young and promising 23-year-old jockey Gonzalo Hahn gave Second Reality a picture perfect ride. "This is the biggest thrill of my life; (it) is like a dream come true. I had great confidence in the horse and he responded to perfection. With two furlongs to go, I had a pretty good aim on Ice Point and I knew I was going blow past him and win it," said Hahn.On the same card, two other group I stakes accompanied the Pellegrini's 16 race program: the $58,050 Gran Premio Internacional Felix de Alzaga Unzue (Arg-I, 1000 meters) and the $71,950 Gran Premio Internacional Joaquin S. de Anchorena (Arg-I-1600 meters).In the sprint, the 4-year-old mare Camire Toss burst away from the inmense field of 22 in the last two furlongs to win clearly by 3 1/2 lengths over the Phone Trick 4-year-old Rocking Trick, leaving Fire Toss another neck back in third. The time of the race was a fast and furious :53.82 over a very firm turf course.Bombazo Toss, the sire of Camire Toss, was one of Argentina's best sprinters in the early 90's. By Buckpasser's son Egg Toss, this is his first group I winner at stud. Rich, the dam of the Unzue winner, is by Secretariat's son Cinco Grande. Camire Toss, trained by Julio C. Rodriguez and ridden by Jacinto Rafael Herrera, was bred by Juan J. Caligiuri. The Unzue was Camire Toss ninth victory in 16 starts.The Gran Premio Internacional Joaquin S. de Anchorena, reserved for the country´s best milers, was won for a second consecutive year by a filly, Randy Cat. In the 2000 version, Paga, now in training in North America, defeated Last Parade.By the very successfull sire Roy (Fappiano) out of the Storm Cat mare Razzi Cat, the Luis and Raul Lottero's Haras Vacacion-bred filly scored her most important victory by defeating the talented veteran Lord Card in wire to wire fashion under leading jockey Pablo Gustavo Falero.The Juan Carlos Maldotti trainee won by three quarters of a length, covering the mile distance in a quick 1:31.83. The Anchorena marked Randy´s Cat sixth victory in only seven starts, and her third group one victory overall. Like Second Reality, the chances of Randy Cat being exported to the United States are reasonably high.



Copyright © 2015 The Blood-Horse, Inc. All Rights Reserved.