Taking the Fall
by Ray Paulick
Date Posted: 12/11/2001 9:18:12 AM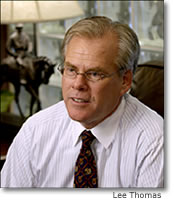 Ray Paulick
Editor-in-Chief


The domino theory may exist after all. Not the one that former President Dwight Eisenhower first discussed in 1954, when he said a cluster of nations in Southeast Asia could be toppled like dominos if just one fell under communist control. That theory was a primary reason the United States got caught up in the escalation of the Vietnam War. This domino theory applies to the expansion of legal gambling throughout the U.S. For decades, pari-mutuel wagering ruled the gambling market. In 1931, state legislators made casinos legal in Nevada, paving the way for the desert resort towns of Las Vegas and Reno. No other states followed suit until 1976, when casino gambling was legalized in the decaying New Jersey town of Atlantic City. While it is questionable what good, if any, the casinos did for Atlantic City, there is little doubt their arrival was the beginning of the end for the Atlantic City Race Course. Instead of embracing casinos, many states looked to lotteries in hopes of filling budget deficits. New Hampshire's sweepstakes lottery, tied to a horse race at Rockingham Park, was the nation's first legal lottery when it was launched in 1964. New York legalized its lottery in 1967, followed by New Jersey in 1970. Today there are at least 38 states, plus the District of Columbia, that offer lotteries, with ticket sales in the U.S. reaching $38 billion last year. Lotteries became a difficult competitor for horse racing, largely because state government, which regulates pari-mutuel wagering, stands to gain the most from a successful lottery. With the exception of an occasional tie-in with the sport, horse racing has derived no tangible benefit from the sale of lottery tickets. Racing survived the expansion of lotteries, however, and in 1988 braced for the onslaught of casinos operated by Native Americans, who were given the blessing to negotiate compacts with each state through the federal government's Indian Gaming Regulatory Act that year. As Indian casinos were beginning to take off (they now exist in at least 22 states), a little-noticed event occurred in Iowa on April 1, 1991, when that state launched its first riverboat gambling cruise. Not long afterwards, Illinois authorized riverboat gambling, as did Louisiana, Mississippi, Missouri, and Indiana. Racing receives a portion of admission charges to Indiana's riverboats. In Illinois, funds from an approved but not-yet-operating land-based casino in Rosemont are earmarked for horse racing. Overall, however, riverboats have done much more harm than good for our industry. Another type of gambling, slot machines or video lottery terminals operated in conjunction with state lotteries, have made their way into a number of states, including South Dakota, Oregon, Rhode Island, West Virginia, Delaware, and New Mexico. In the latter three states, the gambling devices are located at racetracks, and both horsemen and track owners are benefiting. The expansion of gambling, though it may have slowed in recent years, has not run its course. Encroachment from Illinois and Indiana boats has caused politicians in Kentucky and Ohio to take a serious look at gambling, while the VLTs in Delaware and West Virginia have Pennsylvania politicians looking at similar ventures in their state. New York lawmakers recently approved VLTs at some tracks. The good news to come out of all this is that the trend seems to be toward alternative forms of gambling that may help, rather than hinder, the horse racing and breeding industries. In states such as Kentucky, where the horse industry is an integral part of the overall economy, it is essential that an expansion of gambling do more than shore up a budget shortfall. Otherwise, the tumbling dominos eventually may be racetracks that are driven out of business.



Copyright © 2015 The Blood-Horse, Inc. All Rights Reserved.