Top Court Asked to Hear Instant Racing Case
by Ron Mitchell
Date Posted: 7/19/2012 11:25:01 AM
Last Updated: 7/20/2012 10:11:14 AM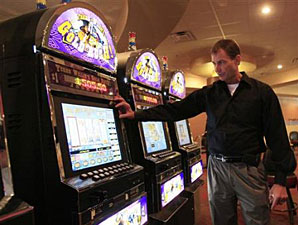 Instant Racing Machine at Kentucky Downs
Photo: AP Photo
The Kentucky Horse Racing Commission and other supporters of Instant Racing have requested that a lawsuit challenging the legality of the machines be heard by the state Supreme Court rather than going back to a lower court as directed by a recent Court of Appeals decision.

In a motion filed July 16, the parties are asking the state's highest court to take the case rather than having it go back to Franklin Circuit Court. On June 15, the Court of Appeals ruled in favor of The Family Foundation's appeal of a previous Franklin Circuit Court ruling upholding the legality of Instant Racing, which is called historical racing in Kentucky.

In its appeal, the Family Foundation contended, and the appeals court agreed, that the lower court abused its discretion by not allowing discovery in the case. The Court of Appeals ruling did not concern itself with the merits of the legality of historical racing but referred it back to Franklin Circuit Court.

"In a divided decision, we believe the Court of Appeals decided to return the case to the trial court for discovery on questions not relevant to the legal issues," the motion for the case going to the Supreme Court states. "Because of the broad impact of the case on one of Kentucky's signature industries, we think the Supreme Court should act without further delay to review this important issue for final determination now."

The motion, filed on behalf of the commission, the state's eight racetracks, and the state Department of Revenue, noted that Appeals Court Justice Sarah Combs dissented from the majority opinion and "agreed that the case was ripe for decision and properly decided by the trial court."
Although the new form of gaming is conducted on slot-like electronic machines, historical race wagering has been deemed legal in Kentucky by the state attorney general's office because the outcome of the games are based on previously run horse races. The bettor does not know the horses or the outcomes of the races, which are shown in a small window in the corner of the machine that mainly consists of slots-like spinning wheels. The racing commission has also determined that historical gaming is considered an exotic wager under existing pari-mutuel wagering regulations.

Conceived and first introduced at Oaklawn Park in Arkansas, Instant Racing has proven popular at Kentucky Downs, the racetrack near the Kentucky-Tennessee border that is the only facility in the state to have the machines operating. Since the machines went online last fall, more than $114 million has been wagered on Instant Racing at Kentucky Downs. While the legal issues are still in the courts, Ellis Park is also installing Instant Racing machines and plans to have them operational by Labor Day.

Dick Brown, a spokesman for the commission, said the regulatory body wanted the Supreme Court consideration of the case rather than sending it back to Franklin Circuit Court because "we believe the trial court was correct in concluding that the Kentucky Horse Racing Commission had statutory authority to adopt the regulation permitting pari-mutuel wagering on historical races."

The Family Foundation, which has 30 days to respond to the motion, said in a statement that the decision to send the case back to Franklin Circuit Court was proper.

"No one can refute that we were denied our day in court when we were forbidden to ask questions in the Franklin Circuit Court," said Family Foundation senior policy analyst Martin Cothran in a statement. "We would be stunned if the Supreme Court accepts review when, as the appellate court agreed, it is so clear that our basic constitutional rights were denied."

There was no indication when the Supreme Court will decide whether it will take the Instant Racing case.

Download the Signed Instant Racing MDR document.
Copyright © 2015 The Blood-Horse, Inc. All Rights Reserved.