Market Views: Looking Back at F-T July Sale
by Deirdre B. Biles
Date Posted: 7/16/2012 12:07:06 PM
Last Updated: 7/17/2012 1:31:25 PM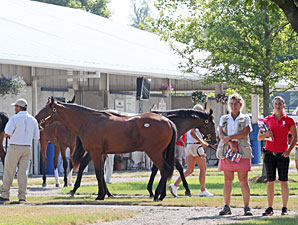 Fasig-Tipton July Sale
Photo: Fasig-Tipton Photo
The Fasig-Tipton Kentucky July select yearling sale enjoyed increases in its gross revenue and average price while the median price remained the same as a year ago.
But not all the statistics generated by the July 10 auction in Lexington were solid. The sale's buy-back rate increased significantly, rising above 30%, during the first major event of the 2012 yearling selling season.
Read below what buyers and consignors had to say about the market, most of which were positive.
Chris Brothers, bloodstock agent: "I thought it was a good sale. There were a couple of horses that really surprised me that brought much more money than I thought they would. It's one of those sales where the individual is what matters the most. (At) A lot of sales, pedigree and conformation kind of go hand in hand. Here it is a much more physical sale. Some of the pedigrees are not the best, but the physicals outweigh them. It was a very good group of horses. I think Fasig-Tipton did a very good job of bringing the individual."
Adrian Regan, Hunter Valley Farm: "I didn't see any difference from any other year. I thought it was all or nothing. If the stars lined up, you got very well paid and then if the horse was struggling, you didn't. But that's the way it seems to be every year at Fasig-Tipton. The boys are very good at picking out the good individual. They always have a few real standout individuals here and those horses did well."
Kenny McPeek, trainer: "I think it's hit and miss still. The good horses are hard to get and they're supposed to be. I've already had quite a few consignors coming to me saying, 'Hey, I didn't sell this one, are you interested?' It really is all about the individual. Fasig is rock-solid consistent on that. They always get the individuals. The pedigrees aren't their focus; they're focused in on runners. And I think it's a good thing. I like that approach."
Mark Casse, trainer: "We've been outrun on a few and we've bought a few. I think Fasig Tipton has done a good job; it's a nice bunch of horses. This is my first time being here in a long time and I think it's a great sale. It has kind of a little bit of everything. There are some interesting pedigrees, with some really nice horses. We've got the advantage of allowing Fasig-Tipton to do the homework for us, so we're looking at an outstanding group. It seems like there are lot of people who are starting to have some positive attitudes. It doesn't necessarily go along with what's going on with our governments, with Kentucky not being able to get anything together and now Ontario has got stuff going on. It's not just training the horses and having the owners anymore; it's politics. You've got to worry about politics."
Randy Hartley, Florida pinhooker: "I think the good horses are selling really, really good. We can't even get close to them for what we want to do. There are some nice horses here and the ones that are nice are sure selling good. It's a good, solid group. I wouldn't say they have the best pedigrees, but there are just a lot of nice physical horses. If you get a good physical that goes down there the right way (during an under tack show at a future juvenile auction), it could bring a lot of money, but you've got to buy them right as yearlings.
"It's fun though. It's a challenge. It makes you feel like the market is still strong. If these other people are buying them now, they'll be buying them later. You almost hate to go to a sale and get everything you want because you feel like, 'Oh my gosh, (something's wrong).' I think people are here because they're afraid that they're not going to find what they want at Keeneland (September yearling sale), and they are trying to get a little head start. I'm hearing that you better get some now because there is a shortage of horses. If you get to Keeneland and you can't buy what you want, you'll wish you had bought some here."
Ciaran Dunne, Wavertree Stables: "It's a really good market. I think it's very fair. We're not getting as many bought as we want, but we're getting some bought. We're pretty much in the ballpark on everything that comes up here, so I would have to say from our perspective they're selling fair. It's about the same as always."
Barry Berkelhammer, Florida bloodstock agent: "I think it's going well. The real smart individuals are selling very well. But the market is still being selective. I think everybody wants what they perceive to be the top quality. That's where the best purses are and the most fun. I think maybe the confusion is out of the market.
"Everybody kind of knows where we stand now with the economy. Everybody is kind of comfortable with where we're at. We might want things to be better, but we know where we're at. We know what the rules are now. Before, we didn't know what the rules were. The world is not going to end tomorrow."
David Scanlon, Florida pinhooker: "This year the market was pretty good (for 2-year-olds) at OBS (Ocala Breeders' Sales Company) in March and April. I think it's on the upswing. There is a little more interest. People have a little more spring in their steps."
Jerry Crawford, Donegal Racing: "I think the market has been very affordable. We're always looking exclusively for colts that can get the Triple Crown distance, and we just bought an Any Given Saturday colt out of a Smart Strike mare we really like for $35,000. That's a horse that can get the Derby (Kentucky Derby Presented By Yum! Brands, gr. I) distance. The question is: Will he be good enough? But in our way of evaluating these things, it looks like he could, so we're excited about that. I just visited with the folks who owned him right after the sale. They were happy and I was thrilled, so I guess that's a good match."
J.J. Crupi, Crupi's New Castle Farm: "The buyers always think it's expensive and the sellers always think that they didn't bring enough. You know how that goes. But this is a fair market. Nice horses will bring money."
Tommy Eastham, sales director, Darby Dan Farm: "The good horses are still bringing nice money. But the nice thing that we're seeing now is that there's a guy now for the $20,000 or $25,000 horse. Our show volume was a little bit better than last year. The 2-year-old guys, you can definitely tell that they had a better year. I would say that there is cautious positive momentum. You have participants, but they are not going to give you crazy, silly money."
Lynne Boutte, Florida pinhooker: "I think it's a very fair market. A good, clean horse is really selling well. It's nice to see the market strong. We've not bought anything, but it's not for lack of trying. We've raised our hands a few times, but we're just not getting it done. It's frustrating when you lose a bid, but I love it (the strength of the competition) for the industry. There are plenty of yearling sales coming up later this year, so we'll get horses bought."
Joe Appelbaum, pinhooker: "It's a similar sale to last year. The good horses that everyone lands on go for probably 40% or 50% more than their value and the others are 'RNA'd' or out or just left to sell at $20,000, $30,000, or $40,000. But I don't think it's an unhealthy market. Horses are being traded. People are not eating their stud fees like they were two years ago. If you have a good horse it sells. If you don't have a good horse, it's harder to sell or you have to take what the market gives you, which is how markets should function. A good market is not necessarily where every horse sells and makes money. It's good for breeders, but it's probably not healthy and sustainable in the long run."
Michael Hernon, Gainesway: "There is good demand, but everything must be in its place. The animal must be there (physically), it must have some supporting pedigree, and the all-important vet report must be in place. If you have that combination, you get paid, period. There is a strong market when you have the right article."
Copyright © 2015 The Blood-Horse, Inc. All Rights Reserved.