Conquistador Cielo Returns to Claiborne Farm
Date Posted: 12/6/2001 11:05:19 AM
Last Updated: 12/10/2001 12:20:05 PM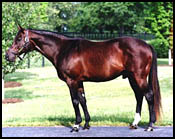 Claiborne Farm stallion Conquistador Cielo.


Claiborne Farm stallion Conquistador Cielo, who underwent colic surgery Dec. 5 at Hagyard-Davidson-McGee Veterinary Clinic near Lexington, arrived back home on Saturday, Dec. 8."He is doing fine," said a farm representative. "He's improving and is on a regular turnout schedule."Conquistador Cielo, the 1982 Horse of the Year, began showing signs of colic the afternoon of Dec. 5 at the Paris, Ky., farm and was taken to the clinic a short time later.Dr. Michael Spirito performed the one-hour procedure that removed six feet of the 22-year-old stallion's small intestine. During the procedure, a lipoma -- a fatty tumor -- was found. The small intestine had wrapped around and strangulated the tumor, a condition that constricts the blood flow.On the racetrack, Conquistador Cielo is best remembered for winning the Belmont Stakes (gr. I) and the Metropolitan Handicap (gr. I) while racing for Henryk de Kwiatkowski under the guidance of Hall of Fame trainer Woody Stephens. As a stallion, the son of Mr. Prospector is the sire of over 60 stakes winners, including grade I winners Marquetry, Wagon Limit, Norquestor, and Conquistarose.Conquistador Cielo is the second Claiborne stallion to undergo colic surgery this year. Champion Unbridled was euthanized in Oct. 19 following two unsuccessful colic surgeries.



Copyright © 2015 The Blood-Horse, Inc. All Rights Reserved.