Some Trainers Still Upset With Stakes Barn
by Ron Mitchell
Date Posted: 6/7/2012 5:43:42 PM
Last Updated: 6/9/2012 11:37:30 AM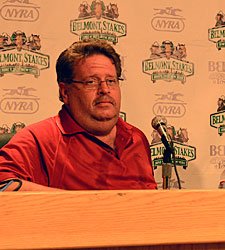 Dale Romans at today's news conference
Photo: Anne M. Eberhardt
A day after the dozen Belmont Stakes (gr. I) horses were relocated to a designated barn, some trainers still expressed dissatisfaction with the arrangement and questioned why it wasn't handled differently.

As a result of a directive from the New York State Racing and Wagering Board, all Belmont horses were moved to Barn 2 by noon June 6. Although all complied with the requirement, some trainers were not happy with the arrangement and continue to voice their frustration with the decision that was made 1 1/2 weeks before the third leg of the Triple Crown.

Just before the track reopened at 8:30 a.m. after the morning maintenance break June 7, most of the Belmont starters made their way down a horse path to the main track for the 15-minute training period set aside for the Belmont horses.

Trainer Kelly Breen took My Adonis to the track shortly after it opened at 5:30 a.m. and then left the track.

Trainer Dale Romans, who is openly critical of the SRWB's decision, took Belmont contender Dullahan to the track about an hour earlier than the time set aside only for Belmont horses to train.
Romans said he wanted to take Dullahan to the track earlier than the other horses to avoid the congestion that could result from all the horses leaving the same barn at the same time.

"It is just ridiculous," Romans said of the Belmont Stakes barn, which has a high level of security. Admittance to the barn is restricted and those allowed in are required to sign in and provide identification. All tack equipment and other items taken into the barn are recorded and inspected by security officers.

Romans said his beef is with the SRWB rather than the New York Racing Association, which operates Belmont Park.

"I will say that NYRA did the best job they could possibly do to make a bad situation good," Romans said, noting that the racetrack operator undertook a quick makeover of the barn usually occupied by trainer Bill Badgett. "They fixed the barn up as nice as it could possibly be. The whole area is as well prepared as it possibly could be. Well, I know it's not NYRA, it's the racing board. But there's a huge disconnect between the regulators and what's the reality of the back side. Now that's a major problem in horse racing in my opinion."

"It hasn't been the easiest situation," said trainer Michael Matz, who had to alter his plans to bring Union Rags to New York on June 7 and had to ship him a day earlier from his Maryland base. "They (SRWB) decided a week ago to change everything. It has been a little bit difficult. It didn't look like there was too much thought put into it. But we will manage."

"It's obviously an inconvenience for everybody, and you know, I think…the state is trying to show everyone how clean the game is and that it's not polluted with a bunch of crooks and cheaters like some people have written about," said trainer Doug O'Neill, who will send out I'll Have Another in his attempt to sweep the Triple Crown, said during a media conference June 7.

"I think this causes poor perception and it makes people think even worse of the game; when really, this is a very clean sport," Romans responded. "They could have quietly put guards on every horse and never been talked about in the paper. It's run properly. There's enough regular checks and balances put into place to make sure it's an even playing field, and this whole thing isn't really necessary."
O'Neill said he agreed with Romans.

"I'll vote for Dale if he's the national commissioner (of racing)," O'Neill said. "Go ahead, run for commissioner. That's what we need, a horse man who has the juevos to say what's right, and you're completely right."

Despite his opinion of the decision to have the special barn, even Romans said it would not be a factor in the outcome of the 1 1/2-mile Belmont.

"It's not going to affect the outcome of the race, I don't believe," Romans said. "But it's just not right to take them out of their environment and move them out somewhere else three days out from the biggest day of their life."

"It's an inconvenience," said Bob Baffert, who trains Paynter . "You hate to move twice. We moved in here (Belmont Park) and then had to move again. But it was no problem for my horse. He is used to shipping a lot. He takes everything in stride."
Copyright © 2015 The Blood-Horse, Inc. All Rights Reserved.