Few Alibis Offered at Alibi Breakfast
by Evan Hammonds
Date Posted: 5/17/2012 2:15:56 PM
Last Updated: 5/19/2012 1:16:38 PM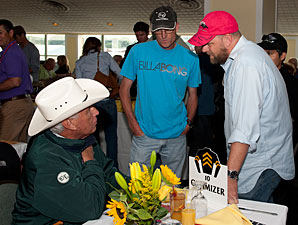 D. Wayne Lukas visits with Doug and Dennis O'Neill at the Alibi Breakfast.
Photo: Jerry Dzierwinski, Maryland Jockey Club
A longstanding Preakness tradition is the Alibi Breakfast, held at Pimlico Race Course two days before the Preakness Stakes (gr. I). It gives Baltimore and Maryland dignitaries and media outlets a chance to meet some of the players for the second jewel in the Triple Crown, and the trainers a chance to offer their "alibi" before the race.

This year, few offered alibis while most offered confidence in their horses. Scott Garceau and Keith Mills served as the master of ceremonies at the event held on the second floor of the clubhouse May 17.

The connections got their shot at the podium in post position order. Post positions were drawn May 16. Bodemeister , the Kentucky Derby Presented by Yum! Brands (gr. I) runner-up and 8-5 morning line favorite, and Derby winner I'll Have Another , were the main topics of conversation, and for good reason. On paper, they figure to be the top two players in the Preakness.

First up was Tom Mullikan, general manager of Sagamore Farm, the owner of Tiger Walk. Tiger Walk will break from the rail in the 11-horse field and will be ridden for the first time by Kent Desormeaux.

"It's a tough-luck draw, but it's not all that bad," Mullikan said.

"Our horse will also be wearing blinkers for the first time," he said. "The idea of the 'cheaters' is he's not a great 'cornering' horse.

Being a Maryland Farm, Mullikan noted how important it was to the Sagamore Farm team to be represented in the Preakness.

"We're carrying the state banner; To have a horse in the race means a lot to us," he said.

Another local hope is Kidwells Petite Stable's Pretension, winner of Pimlico's Canonero II Stakes May 5. Trainer Chris Grove didn't exactly offer up an alibi and was non-plussed by the competition.

"This horse likes to stay up close so he won't be too far back," Grove said. "It's going to be quick up front. It's still going to be two left-hand turns. I don't that's going to be any different. He has a race over the track."

Graham Motion and Team Valor International president Barry Irwin represented Went the Day Well, a closing fourth in the Derby.

"We felt really good about his run," Motion said. "He's still immature, but he's figuring things out. He's had a week back at Fair Hill after the Derby. I'm surprised by how well he's bounced back, just like Animal Kingdom did last year."
Animal Kingdom won last year's Derby and was second in the Preakness.

Next up was Mike Harrington, trainer of Heinz Steinmann's Creative Cause , the Derby fifth-place finisher. Harrington was asked why he sent his colt from Churchill Downs back to his base in California before shipping to Maryland for the Preakness.

"I like to sleep in my own bed, so I figure my horse would like to sleep in his own stall," he said.

"If you look at the horse's form he's been right there in every race he's run," Harrington said. "He's actually beaten the two favorites, so why wouldn't I be confident?"

Hall of Fame trainer Bob Baffert will send out Ahmed Zayat's Bodemeister, the beaten favorite in the Kentucky Derby after setting wicked early fractions. Baffert was asked to compare Bodemeister to any of his other five Preakness winners.

"He reminds me of Bode Miller, the way he skis downhill," he said of the horse that is actually named after his son, Bode. "They're all different. He's one of those horses that shows you more in the afternoons than he does in the mornings. Every time I watch the Derby replay, I keep waiting for him to hit the skids, but he didn't. We just got beat by a better horse, so we've come here to see if we can turn the tables."

With a strong front runner, Baffert was asked about the Preakness pace scenario. "It's going to be a great race. The California horses I feel are the really good horses. Creative Cause is a really good horse. He beat Bodemeister on the square (in the San Felipe Stakes, gr. II). That's one of the reasons we went to the Arkansas Derby (gr. I), was to get away from those horses. Their form has really stood up.

"It's nice to be back at Pimlico. It's my favorite stop on the Triple Crown trail. Win, lose, or draw you always leave here feeling good and that's really important. The Pimlico staff is great and they really take care of the horseman."

As for being the favorite in the Derby and the morning line favorite for the Preakness, Baffert said, "I was surprised he was the Derby favorite. But it doesn't really matter. It's going to be really close."

Steve Asmussen's assistant trainer Scott Blasi and owner Bob Zollars represented Daddy Nose Best. Daddy Nose Best ran 10th in the Derby at 14-1 after winning the El Camino Real Derby (gr. III) and Sunland Derby (gr. I).

"He came out of the Derby in great shape," Blasi said. "We're here for the same reason everybody else is here – we want to win. In the Derby he was coming off a six-week layoff, so he was pretty fresh. He came out of the Derby in great shape. He's an accomplished horse."

Asmussen has saddled a pair of Preakness winners in Curlin (2007) and Rachel Alexandra (2009).

"I wouldn't say we're confident," said Zollars, who has had one other Preakness starter in Easyfromthegitgo (fifth, 2002). "But we've never come back this quick after running 10th. We were very careful to check him out after the Derby."

Doug O'Neill and owner Paul Reddam were on hand for Derby winner I'll Have Another. O'Neill kept his comments brief.

"He's training fantastic," he said. "I think anybody who has had a chance to watch him gallop can see how special of an individual he is. He's loving Pimlico and his energy has been great. We're ready."

Last up was trainer D. Wayne Lukas, the conditioner of Bluegrass Hall's Optimizer, the 11th place-finisher in the Derby. The son of English Channel will break from post 10 in the Preakness.

Lukas has saddled 37 runners in the Preakness and has won it five times, the most recent time with Charismatic in 1999.

"These horses, sometimes they don't fit every scenario," Lukas said. "A lot of them won't pass every test and that's what makes it so unpredictable and so exciting. But this guy has passed on two turns, different surfaces, different barns. I think he fits. He has the energy level and it looks like he can come back in two weeks. I think experience is paramount."

Optimizer has experience. He'll be making his 11th start. His best finish as a 3-year-old was a hard-charging runner-up performance in the Rebel Stakes (gr. III) March 17 at Oaklawn Park.

Lukas liked his post position, noting Optimizer has had some tough posts in his biggest races. He broke from post 13 in the Grey Goose Breeders' Cup Juvenile (gr. I) and from post 2 in the Derby.

Copyright © 2015 The Blood-Horse, Inc. All Rights Reserved.