NBC Derby Overnight TV Ratings Dip Slightly
by Lenny Shulman
Date Posted: 5/7/2012 2:05:25 PM
Last Updated: 5/8/2012 2:05:26 PM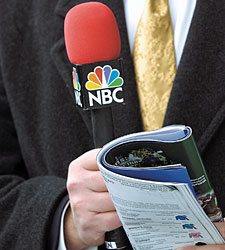 NBC
Photo: Anne M. Eberhardt
The NBC Sports Group reported May 7 that overnight television ratings for the 138th Kentucky Derby Presented by Yum! Brands (gr. I) May 5 dropped slightly from 2011 numbers. The telecast on NBC from 5-7 p.m. ET received a rating of 7.2 with a 17 share, down 3% from last year's 7.4/17.
The race portion of the telecast from 6-7 p.m. ET received a 9.0/20, down 7% from 2011's 9.7/22. The ratings number indicates the number of households that tuned into the program, with each ratings point equalling approximately 770,000 households. The share reflects the percentage of television sets in use that were tuned into the program.
The Derby numbers were still strong compared to other sports programming, easily outdistancing the New York Knicks vs. Miami Heat NBA playoff game and NASCAR coverage over the weekend. The Derby telecast also scored higher than the final round of the Master golf tournament in April and the NCAA Final 4 basketball game between Kentucky and Louisville in March.
The top metered markets for the 2012 Kentucky Derby were:
1) Louisville 31.7/59
2) Cincinnati 18.3/37
3) Ft. Myers 17/31
4) Buffalo 13.4/27
5) Hartford 13.4/26
6) West Palm Beach 13.4/24
7) Columbus 13.3/27
8) Knoxville 13/24
9) St. Louis 13.1/28
10) Boston 12.8/31
Copyright © 2015 The Blood-Horse, Inc. All Rights Reserved.