Needhams Enjoying the Dullahan Experience
by Deirdre B. Biles
Date Posted: 4/16/2012 7:16:56 PM
Last Updated: 4/18/2012 3:06:43 PM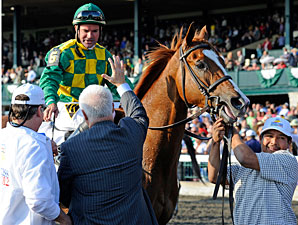 Dullahan
Photo: Anne M. Eberhardt
"Unbelievable" is how Phil Needham describes his association with April 14 Toyota Blue Grass Stakes (gr. I) winner Dullahan and that colt's half brother, 2009 Kentucky Derby Presented By Yum! Brands (gr. I) winner Mine That Bird.
"It's the most exciting thing that could happen in someone's life," the Central Kentucky horseman said April 16. "It's as positive an experience as one could ever have."
Needham and his wife, Judy, bred 3-year-old Dullahan in partnership with Procter & Gamble executive Bena Halecky. The Needhams also were the co-breeders of Mine That Bird in another partnership that involved William Betz, Peter Lamantia, and James Blackburn. Several years ago, the Needhams bought out Betz, Lamantia, and Blackburn's interests in Dullahan and Mine That Bird's dam, Mining My Own. They also recruited Halecky to participate in future breeding ventures with the daughter of Smart Strike .
"We feel very fortunate and lucky," Phil Needham said.
Kentucky-bred Dullahan is by Even the Score , an Unbridled's Song stallion that was a grade II winner. The mating that produced the Blue Grass victor and Triple Crown nominee took place the year before Mine That Bird (by Birdstone ) became a classic winner. It also happened before Mine That Bird became a grade III winner in Canada and was honored as that country's 2008 champion 2-year-old male.
"We thought the stud fee for Even the Score at that time ($7,500) was about as much as she (Mining My Own) deserved or as much as one would want to spend on her because she was still unproven as a broodmare," Phil Needham said. "We had always liked Unbridled's Song and he (Even the Score) seemed to match with her physically. She has plenty of size and I always kind of like to breed equal size to equal size rather than taking a small mare and breeding her to a really big stallion or a big mare and breeding her to a small stallion."
Dullahan was foaled at Emilie Fojan's Bona Terra Stud near Georgetown, Ky., and Needham was there to oversee his birth.
"I've foaled probably 40 mares (each year) for 35 years and when you see foals get up in a hurry, you always think of them as being the strong ones," Needham said. "Dullahan was very precocious. He got up in 20 minutes."
The colt's early life at Bona Terra "was kind of uneventful," Needham said. "He was a laid-back horse and easy to handle. He wasn't one that would raise a huge fuss or a huge commotion. He was quite professional from a very early age."
In appearance, Dullahan was different from Mine That Bird from the very beginning.
"He was much bigger and stronger," Needham said. "For the first two weeks (of his life), Mine That Bird could walk under his mother's belly and this horse never could do that. He (Dullahan) was always an exceptional horse. He was correct; there weren't any real negatives. To someone like myself who evaluates horses, I thought his hindquarters could have been a little stronger as a foal, but he went on and developed and that wasn't a problem. Some people would have thought that he might have been a little long, but that enabled him to have a long stride. That (being long) is a positive, I believe, when a horse has the musculature to move that frame."
However, according to Judy Needham, Dullahan and Mine That Bird were similar in some ways.
"Mine That Bird was a small, very energetic horse and Dullahan was much more laid-back," she said, "but they both were good movers and they were good doers."
In 2010, Bona Terra consigned Dullahan to the Keeneland September yearling sale.
"He went through the prep program (for the sale) without any incidents," Judy Needham said. "He was almost like an old soul in his mind. He was playful at times, but he was a pretty professional, serious horse while he was being raised. He developed and settled down, and we were pleased with him. He was really good at the sale and showed a lot of class. But I remember wondering sometimes if he would have enough spunk and spirit because he was so laid-back. When he walked into the walking ring in the back (of the Keeneland sale pavilion) to be sold, he got kind of animated and bowed his neck. I remember saying he had the same look that Mind That Bird had out of his eye and in his face. For the first time, I thought 'Oh, wow!' It was the way he handled the excitement that reminded me of Mind That Bird. He was excited, but controlled."
Donegal Racing purchased Dullahan for $250,000.
"That value probably would not have been expressed had Mine That Bird not won the Derby the year before; it was great timing, but we also thought a lot of him (Dullahan)," Phil Needham said. "We were quite happy with the price."
The day prior to Dullahan's 1 1/4-length Blue Grass triumph, 11-year-old Mining My Own produced a colt by Giant's Causeway at Bona Terra.
"She was turned out early in the morning," Needham said. "I went over there and watched her and she foaled in the field. Her foal is an absolute knockout; some people call a foal like him a crackerjack."
Mining My Own is scheduled to be bred to Bernardini later in the spring.
Dullahan, meanwhile, is headed to the Kentucky Derby. He has won two of his eight career races while finishing second twice and third twice. He has earned $872,091.
The chestnut colt's efforts include a victory in the 2011 Dixiana Breeders' Futurity (gr. I), a runner-up performance in the 2012 Palm Beach Stakes (gr. IIIT), and a third in the 2011 With Anticipation Stakes (gr. IIT).
"Emilie always loved him," Judy Needham said. "From the time he was six or seven months old, she said he would be a Derby horse. He showed all the characteristics and qualities. The fact that the mare had already done it (produced a Run for the Roses winner) with Mine That Bird probably had a lot to do with it (Fojan's opinion), but she did think he was superior in a lot of ways. Another person who really liked him was Franklin Smith, who broke him in the Carolinas. He (Dullahan) has shown people along the way that he was a little something special."
Said Fojan: "I've been around a lot of good horses, and I knew he had the mind, and he had the substance, and he had the body to be good, too. He was always a big boy and a smart horse. Smart horses know what to do; you don't have to teach him. When we prepped him for the sale, he just did his work, ate, drank, and snoozed like a professional."
Copyright © 2015 The Blood-Horse, Inc. All Rights Reserved.