Tiznow to Stand at WinStar; Taylor Made Also Buys In
by Blood-Horse Staff
Date Posted: 11/18/2001 4:51:33 PM
Last Updated: 11/19/2001 3:18:54 PM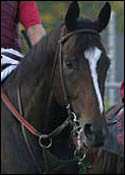 Tiznow, retired to stud at WinStar Farm.
Photo: Anne M. Eberhardt

By Steve Haskin
and David Schmitz
Tiznow, whose victory in the 2001 Breeders' Cup Classic (gr. I) for the second consecutive year placed him solidly in the running for a another Horse of the Year title, will stand at Bill Casner and Kenny Troutt's WinStar Farm near Versailles, Ky. WinStar, in partnership with the Taylor family's Taylor Made Farm, bought a half-interest in the 4-year-old colt and will stand him with fellow owners Michael Cooper and Cee's Stable.Four-year-old Tiznow raced this year for the latter two parties in the name of Cee's Stable. He compiled a record of three graded stakes wins and three graded stakes-placings from six starts.The decision to accept the bid by Taylor Made/WinStar Ventures was based on a basic formula. "WinStar and Taylor Made presented a superior plan to market Tiznow," Cooper said. Cooper, who owned a part of Tiznow when the son of Cee's Song raced for his late breeder, Cecilia Straub-Rubens, said he and Cee's Stable will not syndicate their interest in Tiznow. "We're going to be with him all the way," he said.Cee's Stable consists of Cooper and Straub-Rubens two children, son Kevin Cochrane and daughter Pamela Ziebarth.Duncan Taylor said WinStar will be the home for Tiznow rather than Taylor Made because both parties want to stand a strong stallion alongside Kris S. Years back, Taylor Made brought Kris S. from Florida to stand at Prestonwood Farms (now WinStar). Taylor Made still retains five shares in the stallion. Taylor Made/WinStar Ventures also will not syndicate its interest in Tiznow.The decision to retire Tiznow was made less than two weeks after the Breeders' Cup and came with the colt's best interests at heart, Cooper said. Tiznow suffered from back problems, and his quirky antics while training did not exactly make life easy for Cooper or trainer Jay Robbins."It was a hard decision to make," Cooper said. "But when it came right down to it, he has an opportunity now to go out in an incredible way. At 4:30 this morning (Nov. 16), I read about (graded stakes winner) Manndar hitting a hole and breaking his leg, and thought if that ever happened to Tiznow it would devastate me. So, I called Jay at 5:45 in the morning and told him to take the horse out of training."The way I see it, we set a record when it came to beating the odds. To do what we've done with our little California broodmare band of eight mares and one stallion is beyond belief. I just felt it was time to return the thanks and assure Tiznow has a great life. He deserves it."Straub-Rubens bred Tiznow in California. Tiznow, who was produced from the Seattle Song mare Cee's Song and is a full brother to millionaire Budroyale, retires with eight victories from 15 starts and earnings of $6,427,830. In addition to his pair of Classic victories, he captured two other grade I stakes: this year's Santa Anita Handicap and the 2000 Super Derby in track-record time of 1:59.84 for 1 1/4 miles. "I'm really going to miss him," Robbins said. "These were the greatest two years of my life. It was stressful, especially the last few months, but it was also joyous. To see him do what he did was the most satisfaction I've ever had on the racetrack. Now, I'll look forward to his brother, Tizbud. We worked him two half-miles at Del Mar, but he suffered the same stress fracture of the tibia Tiznow had at two."Tiznow is expected to arrive at WinStar from Robbins' barn Wednesday, Nov. 21.



Copyright © 2015 The Blood-Horse, Inc. All Rights Reserved.