From the Magazine: Snow Dance Puts Foes on Ice
by Evan Hammonds
Date Posted: 11/17/2001 6:38:38 PM
Last Updated: 11/22/2001 6:55:38 PM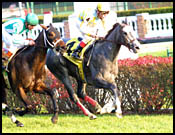 Snow Dance holds off Stylish to win the Mrs. Revere at Churchill Downs.
Photo: Four-Footed

Published in the Nov. 24 issue of The Blood-Horse
Despite unseasonably warm temperatures on a resplendent Indian summer afternoon, John Oxley's Snow Dance put her sophomore filly rivals on ice with a cool-hand victory in the $172,500 Mrs. Revere Stakes (gr. IIT) at Churchill Downs. Under veteran rider Craig Perret, the gray daughter of Forest Wildcat gave another chilling performance on Nov. 17, the same type of effort she has always delivered since being switched to the grass, this time recording a neck victory while going 1 1/16 miles. Since being moved to the turf in early summer, Snow Dance had shown a balanced attack of sinew and speed, winning four of five starts and two graded stakes. Her lone defeat came in her start prior to the Mrs. Revere at the hands of West Coast-based Affluent and Golden Apples in the Queen Elizabeth II Challenge Cup (gr. IT) at Keeneland. While even the most veteran stakes horse would have trouble maintaining its form over such an extended period, trainer John Ward Jr. has a ready explanation. "She's an extremely intelligent filly. She doesn't have to be trained too hard; she just works hard on race day," Ward said. "I don't have to do too much with her. It kind of leaves me with a hollow feeling because we haven't had to do too much." Ward chalked up her lone grass defeat as a learning experience. "At Keeneland, she found out what she needs to finish." Finish she did in the Mrs. Revere. Snow Dance broke well from post four and worked her way to the hedge, but it was Ever With You who was hustled out by Calvin Borel for the early lead. Ever With You, who had established a Churchill Downs course record just 10 days earlier and looked none the worse for wear in the paddock, went clear into the first turn and down the backstretch while setting splits of :24.08 and :48.19. Snow Dance, who had set the pace in all but one of her turf efforts, tracked patiently in second, merely awaiting her cue. Third-choice Casual Feat was close to the action, as was Stylish, a compact Thunder Gulch filly trained by Bill Mott. Ransom's Pride, the wide-traveling Cozzy Corner, and Quick Tip remained mid-pack. Despite the moderate fractions, the field was strung out down the backside. "That horse wasn't setting too much pace," Ward said of Ever With You. "This filly can set big fractions and still close." The field tightened into the turn after six furlongs in 1:12.50, with Ever With You's lead shrinking. Perret signaled and Snow Dance responded, gamely taking control of the race, just as a 7-5 favorite should. Stylish came with her run, but couldn't keep pace in early stretch. Coming with a strong move was the Akiko Gothard-trained Cozy Island, who found clearance after being on the receiving end of some bumping early on. Snow Dance's lead melted away in the final strides, but the outcome wasn't in doubt. Her margin of victory was a neck, as Stylish held off Cozy Island by a nose for second. Quick Tip, the second-choice in the field of 10, was a length back in fourth. Final time was 1:42.86. Cozy Island, a Marylou Whitney-homebred Cozzene filly, was making just her third start on the grass. She remains winless on turf, but her margins of defeat read: neck, nose, neck. Ward served notice nationwide of an impending "Big Chill." Weather forecasters best not predict an El Niño pattern this winter as Snow Dance could see turf action on both coasts. After a short break at Ward's winter base of Palm Beach Downs in Florida, "she'll race at Gulfstream. But I wouldn't be surprised to put her on a plane and go to California. The money for grass fillies kind of dries up in the spring--it all goes to the 3-year-olds." Ward should know something about that. Last spring he won the rich Florida Derby (gr. I) and Kentucky Derby (gr. I) with Oxley's Monarchos. While Snow Dance added $106,950 to Oxley's account, Ward plans to add some bulk to Snow Dance during the break. "There is room for growth," Ward said, noting she'll need it to face older rivals. "She's slight, but has a big frame. She'll put on 75 pounds over the winter that will help her strength. She needs that strength in the rear end that helps her push her way over that going (turf)." Her rivals in the future will need strength, too...or perhaps a shovel.
Far and Away(Chart, Equibase)



Copyright © 2015 The Blood-Horse, Inc. All Rights Reserved.