From the Magazine: Mr. Pleasantfar's Route to Success
by Steve Haskin
Date Posted: 11/17/2001 6:20:45 PM
Last Updated: 11/22/2001 6:57:12 PM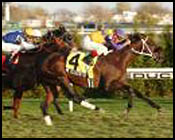 Mr. Pleasantfar upsets the Red Smith.
Photo: AP/NYRA/Adam Coglianese

Published in the Nov. 24 issue of The Blood-Horse
There are many different routes a horse can take through his or her racing career, but it's safe to say that Mr. Pleasentfar has broken new ground with his Brazil-to-Dubai-to-Calder-to-Aqueduct route. The 4-year-old Brazilian-bred, whose sire was bred in Ireland, began his career in such obscurity that The Jockey Club's database lists the owner and trainer for his first four career starts as unknown. In future races, his owner was listed sporadically as Haras Garcez Castellano, which also bred the horse. Now, he is a grade II stakes winner in America, having captured the Nov. 17 Red Smith Handicap at 1 3/8 miles on the turf. Ironically, his only two victories before coming to the U.S. were on the dirt in Brazil--at about seven furlongs and about 1 1/2 miles, the latter in a group I race at Taruma. After finishing a well-beaten eighth in the UAE (United Arab Emirates) Derby (UAE-III) on March 24 of this year, Mr. Pleasentfar was sold to Raja Malek by Haras Garcez Castellano, which retained an interest in the son of Emmson. He was then turned over to trainer Marty Wolfson at Calder. On May 28 of this year, Wolfson had sent another Brazilian-bred colt named Pavillon, owned by Rio Aventura Stables, to Monmouth Park to win the Red Bank Handicap (gr. IIIT). The move proved to be fortuitous, as it attracted the attention of Malek, who then called Wolfson and asked him if he was interested in having another Brazilian horse to train. Although bred and trained in Brazil, it must be noted Mr. Pleasentfar is American through and through on his female side. His dam, Pleasant Tale, is by Pleasant Colony, and the remainder of his female family is from Northern Dancer and Round Table. Wolfson liked the colt right away. Although he ran well, finishing third in an allowance race, first in an optional claiming race, and fifth in the Miami Mile Breeders' Cup Handicap, it wasn't until he stretched out to 1 3/8 miles in the Flying Pidgeon Handicap on Oct. 13 that Wolfson knew he had a stakes-caliber turf horse. Despite a dawdling pace, Mr. Pleasentfar rallied strongly to outclose Just Listen, winning by a neck. With no distance turf races left at Calder, Wolfson decided to send Mr. Pleasentfar to Aqueduct for the Red Smith, the last turf stakes of the year in New York. The race turned into a mad dash to the starting gate, as 16 entered, three of whom were placed on the also-eligible list. One was entered for dirt only. Jose Santos, who was aboard Mr. Pleasentfar in the Flying Pidgeon, was back aboard for the Red Smith. Sent off at 9-1, Mr. Pleasentfar saved ground, while settling nicely in sixth, about five lengths behind the battling leaders, 5-2 favorite Eltawaasul and 73-1 Serazzo. After six furlongs in 1:16.37 and a mile in 1:40.78, Santos came off the rail and steered his colt to the outside for clear sailing. Eltawaasul put the stubborn Serazzo away and kicked for home, opening a length lead at the eighth pole. But Mr. Pleasentfar was rolling right behind him, and charged by in the final sixteenth to win by three-quarters of a length in 2:16.94. Eltawaasul just hung on by a nose for second over Regal Dynasty. "This is the second time that I rode him, and he looked better today than he did down in Florida," Santos said. "I think he's got a real big future. He was very handy in the last three-eighths and had no trouble coming a bit wide. Marty called me before the race (from Florida) and said he had a lot of confidence in the horse. He proved his class today." (Chart, Equibase)



Copyright © 2015 The Blood-Horse, Inc. All Rights Reserved.