Horse of the Year Tiznow Retired; Stud Plans Uncertain
by Steve Haskin
Date Posted: 11/16/2001 2:35:46 PM
Last Updated: 11/18/2001 5:05:30 PM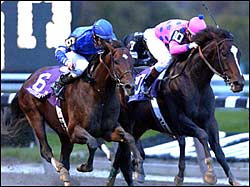 Tiznow (right) holds off Sakhee to retain his crown in the Breeders' Cup Classic.
Photo: Mike Corrado

Tiznow, 2000 Horse of the Year and two-time Breeders' Cup Classic winner, has been retired to stud, owner Michael Cooper confirmed Friday. Cooper said the actual sale of the colt has not been finalized.Cooper said the plans should be finalized by the end of next week. "It was a hard decision to make," he said. "But when it came right down to it, he has an opportunity now to go out in an incredible way. At 4:30 this morning, I read about Manndar hitting a hole and breaking his leg, and thought if that ever happened to Tiznow it would devastate me. So, I called Jay at 5:45 in the morning and told him to take the horse out of training. The way I see it, we set a record when it came to beating the odds. To do what we've done with our little California broodmare band of eight mares and one stallion is beyond belief. I just felt it was time to return the thanks and assure Tiznow has a great life. He deserves it.""Mike called me at quarter to six Pacific time this morning and told me to take him out of training, and just walk him," Robbins said. "He said there were two parties in Kentucky involved, and that something would develop within the next week. So, it looks like I'll only have him here for one more week. My wife Sandy is coming to the barn (Saturday) and we're going to have our Christmas pictures taken with him."I don't know anything about the deal, but he's perfectly sound, and capable of earning $4 or $5 million next year if we ran him in the Dubai World Cup and Breeders' Cup Classic. But I guess the upside is that there are two parties interested in him now. At least he's not going abroad. I'm really going to miss him. These were the greatest two years of my life. It was stressful, especially the last few months, but it was also joyous. To see him do what he did was the most satisfaction I've ever had on the racetrack. Now, I'll look forward to his brother, Tizbud. We worked him two half-miles at Del Mar, but he suffered the same stress fracture of the tibia Tiznow had at two."Tiznow, bred in California by the late Cecilia Straub-Rubens, retires with eight victories in 15 starts, with four seconds and two thirds, for earnings of $6,427,830. In addition to his two Breeders' Cup Classic victories, the son of Cee's Tizzy out of Cee's song, by Seattle Song captured the Santa Anita Handicap, Super Derby, San Fernando, Goodwood Breeders' Cup Handicap, and Affirmed Handicap.



Copyright © 2015 The Blood-Horse, Inc. All Rights Reserved.