From the Print Edition: Expected Decline Materializes at Keeneland
by Deirdre B. Biles
Date Posted: 11/15/2001 11:16:10 PM
Last Updated: 11/28/2001 3:54:31 PM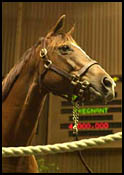 Twenty Eight Carat, brought Keeneland's top price of $4-million.
Photo: Anne M. Eberhardt

Published in the Nov. 24 issue of The Blood-Horse
The Keeneland November breeding stock sale produced few surprises. Everybody knew that business was going to be down, and, as expected, the declines were steep in virtually every statistical category. Gross revenue plummeted 40.5%. The average price dropped 22.5%. And the median fell 23.1%."We just shut our eyes," said consignor Jody Huckabay of Elm Tree Farm. "Whatever the market would bear is what we ended up doing. About a quarter of the way through the sale, we decided we had to make some adjustments. A lot of our horses went through with no reserves, and they brought prices that were 50% lower than we anticipated. But they moved; they found new homes."Only two years ago, commercial breeders were celebrating after the November sale generated more money--$317,666,000--than any other Thoroughbred auction in history. Last year, the sale recorded its highest average ever. But much has changed since then. The once robust American economy has slumped into a recession. The nation has gone to war after being attacked by terrorists. And horse breeders have suffered devastating losses from a mysterious disease: mare reproductive loss syndrome (MRLS).Predictably, the supply of horses for the 2001 edition of the November auction decreased. So did demand. In general, the final results for the 11-day run (Nov. 5-15) were discouraging when compared to 2000's figures:-- The number of horses offered fell 22.3%, from 4,355 last year to 3,385 this year.-- The number reported as sold decreased 23.3%, from 3,264 to 2,505.-- The buy-back rate rose from 25.1% to 26%.-- Gross revenue plunged from $301,904,800 to $179,533,600.-- The average dropped from $92,495 to $71,670, ending a period of growth that had lasted for eight years.-- The median slipped from $26,000 to $20,000.-- The number of horses sold for $1 million or more declined from an all-time high of 39 last year to 18 this year. And the highest price fell from $4.9 million to $4 million.(The figures above do not include 10 no-guarantee stallion seasons that grossed $2.5 million and a share that sold for $55,000 in 2000. They also do not include a no-guarantee season to Storm Cat that sold for $450,000 following the first session of this year's sale. W.T. Young's Overbrook Farm donated the proceeds to the American Red Cross.)But even though the setbacks were significant, many consignors claimed that the auction's performance in 2001 had exceeded their expectations."I don't think it's been a bad sale at all," Susan Forrester said. "I feel good about it. It hasn't been a disaster. It could have been a bloodbath."Said Claire Murphy of the Rockwell Sales Agency: "It's a little better actually than I thought it would be. If a good horse comes into the ring, people are still all over it. It's not that there is no money out there. It's just that people have become a little more careful. They're less extravagant than they were before."Looking back at his pre-sale analysis, Keeneland's director of sales, Geoffrey Russell, said the final figures were closer to his best-case scenario than they were to his worst-case scenario."We were very happy with the sale," he said. "Obviously, we knew the numbers were going to be down. But we had some very strong comments from buyers and consignors who told us that they felt the market was good. Buyers said they had a hard time buying, which is always positive. There wasn't a sense of desperation. The horses with quality still brought a lot of money."Prices declined for both broodmares and weanlings.The 1,401 broodmares that were sold grossed $130,935,900 and averaged $93,459. The average was down by 26.4% from last year's all-time November high of $127,067. The gross declined by 41.2% from the November record of $222,494,200. The number sold fell 20%.MRLS dramatically reduced the quantity of the mares on offer as well as the quality. Numerous breeders decided to hold on to their best mares when they came up empty because the lack of a pregnancy would reduce their value in the sale ring. Some breeders also decided not to sale their top pregnant mares because buyers expressed fears that MRLS had damaged the fetuses. There was only one mare covered by the standout sire Storm Cat catalogued this year compared to 11 last year."Even with all the external economic situations in place, I think the mare market has held up very well," said Bob Cromartie, a bloodstock agent from Ocala, Fla. "The prices have been very fair. Many of the mares that were here brought what they were worth. Yes, there were some soft spots. We were able to buy mares for the price of the stud fee that was in them or less. But I didn't feel like we were able to steal anything. People didn't come in here and give away horses because they were panicky or needed to."The 1,063 weanlings that were sold grossed $45,968,200 and averaged $43,244. The number sold dropped 22.9% from a year ago while the gross and average fell by 38% and 19.5%, respectively. It was the second year in a row that all those figures had declined after peaking in 1999. The downturn in weanling prices has caused many commercial breeders to wait for the yearling sales to market their horses.Notably missing from this year's catalogue was the weanling consignment from Gaines-Gentry Thoroughbreds, which had specialized in selling well-bred young stock in November. Last year at Keeneland, Gaines-Gentry sold seven weanlings for prices of $500,000 or more. They included the auction's most expensive foal, a $1.2-million daughter of Storm Cat--Now That's Funny.Gaines-Gentry has shifted its focus to the yearling sales and will offer approximately 50 horses next year at a variety of auctions, probably beginning with Keeneland and Fasig-Tipton Kentucky in July."Consignors have to be realistic in their expectations of what their horses can bring," said Southern Way Farm's Bill Kain of this year's weanling market at Keeneland. "If you double your stud fee at any point in the sale, then you're doing fantastic. You need to get your money and go. If you get the stud fee and a quarter or the stud fee and a half, you're doing OK. You need to take it and get gone. If you're getting less than the stud fee, you've got to look at the individual and figure out what you're going to do with him beyond this. Unless you have a horse that is very immature or you truly believe something is going to shake loose in that female family and boost his price, you need to go ahead and sell him."However, the potential still existed for a breakout horse. A Storm Cat--Better Than Honour filly sold for $1.5 million, the second-highest-price ever for a weanling at Keeneland in November. Canadian Ted Burnett of Josham Farms signed the sale ticket. But the transaction did not represent an outright sale because John Sikura, the filly's breeder and consignor, said he would retain a half-interest.Continued...



Copyright © 2015 The Blood-Horse, Inc. All Rights Reserved.