Tips From Fred Hertrich's Commercial Success
by Deirdre B. Biles
Date Posted: 3/20/2012 10:08:52 AM
Last Updated: 3/20/2012 10:10:19 AM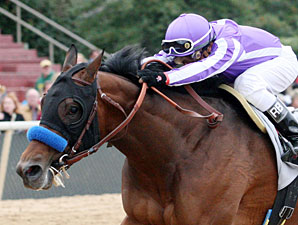 Castaway
Photo: Coady Photography
Castaway is the epitome of what Fred Hertrich is trying to achieve as a commercial breeder.
A 3-year-old son of Street Sense, Castaway was handsome enough to command the highest price of any yearling in his sire's first crop offered at public auction. He brought $435,000 from Demi O'Byrne at the 2010 Keeneland September sale. In addition, Castaway is talented enough to be a 2012 Triple Crown nominee and the winner already this year of a division of the Southwest Stakes (gr. III).

"If you're just trying to breed beauty pageant winners that bring a lot of money with no focus on their performance on the racetrack, I don't think you'll be in this business very long," Hertrich said.

Hertrich, 66, heads an enterprise that operates car dealerships in Delaware, Maryland, and New Jersey. He also is the owner of 400-acre Watercress Farm near Paris, Ky., and a prominent figure in the Standardbred industry.

Watercress has around 80 Thoroughbred broodmares and shares in approximately 30 stallions in its portfolio. Hertrich formerly owned the nursery and bred horses in partnership with Dr. Phil McCarthy, a well-known equine reproductive veterinarian who died in 2009.

"Dr. McCarthy and I were not only partners; we also were best friends and we enjoyed so much of this together," Hertrich said. "He was one of the top reproductive vets in the world. He also had a unique knack of being able to look at a stallion and a mare and visualize what their foal was going to look like."

Since McCarthy's death, Hertrich has carried on his commercial breeding ventures with other partners. His primary associate is Canadian John Fielding, who also is a leading breeder of Standardbreds. Other key members of Hertrich's team are Watercress manager Shane Doyle and pedigree advisor Rob Tribbett.

Hertrich and his colleagues sell nearly all the horses they breed through Kentucky-based Taylor Made Sales Agency. Over the years their program has produced such successful runners as European champion Shamardal, imported Puerto Rican champion Thethiefatmidnight, 2010 Three Chimneys Hopeful Stakes (gr. I) winner Boys At Tosconova, and Street Boss, who captured the Triple Bend Invitational (gr. I) and Bing Crosby (gr. I) handicaps in 2008. Other top horses for Hertrich and his associates have included 2004 Californian Stakes (gr. II) and Mervyn LeRoy Handicap (gr. II) winner Even the Score, 2007 Richter Scale Sprint Championship Handicap (gr. II) winner Half Ours, five-time graded winner Snow Dance, and Mighty, who triumphed in the 2000 Louisiana Derby (gr. II).

"We've been fortunate, and we've done very well," Hertrich said. "But the great thing about the Thoroughbred breeding business is there is no exact answer. It's not a math problem, and you can't buy the solution. The guy with the most money doesn't always win in this game. What the business does do is provide you with a lot of mental stimulation, and maybe you can find something that you believe in that will give you one little edge. It will never be the entire answer, but it could be a little bit of an edge."

Hertrich offered the following details about the breeding strategies he and his partners use in their quest to create physically gorgeous horses that can win added-money events:

• Make conformation a key consideration in every mating. "We tear apart the conformation of every one of our mares to determine what they are themselves and what they have produced. Then we analyze that information because we know we have to take a product with good conformation into the sale ring. For instance, if we've got a mare that toes out in her right front and her first foal toes out in its right front, we're not going to breed her to a stallion that is out in the right front. Even though toeing out in the right front will not affect the performance of the foal (if the defect isn't severe), it certainly will affect its salability.

"We also know that Unbridled's Song and Storm Cat mares can produce a very good horse that brings a lot of money and become a graded stakes winner. One that comes to mind is Half Ours (who brought $625,000 at the 2004 Keeneland September sale as a yearling and $6.1 million at the 2006 Keeneland November breeding stock sale as a horse in training)."

• Do your homework when buying a mare or selecting a stallion. "I try to talk to the trainer that had the horse. I ask, 'From the time you broke that horse until the time he won five grade Is, what problems did you have? How come he didn't race at 2?' With a stakes mare, if a trainer tells me, 'She would only give you her all in one out of five or six races,' I probably won't buy her. But if one started 10 times, tried hard, and made $80,000, I kind of like that. In the end, as a breeder, you've got to put all that (information you know) into the equation of what you are going to do with that horse."

• Be a value shopper when acquiring breeding stock. "People know we'll spend anywhere from $10,000 to $500,000 for a mare and all prices in between. But we're always looking to buy value. If we see a million-dollar mare and we think we can buy her for $500,000, we'll buy her. The market is a funny place, and you never know what turns people on and what turns people off. You may be able to buy a mare for 50 cents on the dollar because she is in foal to an unfashionable stallion. We also may know something that not everybody else knows.

"After the collapse in 2008 (of the Thoroughbred marketplace during one of America's worst financial crises), we were very aggressive. We spent more money in 2009 on mares than we ever have because there was tremendous value. You had financial institutions involved that made people sell as opposed to people saying, 'If this horse doesn't bring $200,000, I'm going to keep it.' That is a great market to buy in.

"We look at yearling fillies with big pedigrees (to race and keep as broodmare prospects) and hope we can find a flaw that will scare away the other buyers. It could be a throat that doesn't pass every vet; it could be a lot of things. For example, if a filly has bone chips in an ankle, it will take buyers off of her. They don't want to take her to Rood & Riddle (Equine Hospital) or Hagyard (Equine Medical Institute), have it (the ankle) operated on, and then have to put her on the shelf for several months. We'll also go to 2-year-old in training sales and buy a filly that has a flaw, and we'll look at claiming fillies (with attractive pedigrees). If a filly has an injury, we'll buy her immediately off the racetrack."

• When choosing a young stallion to purchase a share in, consider several factors, including the farm where the horse will stand. "Do you like the stallion? That's number one. Do you like the way he ran? When you see him, do you think, 'Wow!' or do you think, 'Oh, my God, what are his babies going to look like?' Do you like his pedigree? Are there 10 sires in his family that have prospered or is it a one-horse family? Then look at the farm where he is going to stand. Do they support their stallions? Do they run a good syndicate? That's certainly going to affect what's going to happen in the market (with that horse's offspring) for the first four years. Filling the book is very important. Without the numbers, 99 times out of 100 that horse is not going to be successful."

• Stick with commercially viable stallions. "There are commercial horses and non-commercial horses. A stallion may be a great sire in Kentucky that gets racehorses. But if we can't sell them (the horse's progeny) and make a return, we really can't breed to that stallion. The stallion has to have some commercial viability, and that's easy to see. You look at a stallion's stud fee and how much it costs you to raise a yearling and get it to the sale ring. If what you think the median (yearling price) for that stallion is going to be in two years doesn't exceed your expenses, it's going to be pretty tough for you to make a return on your investment."

• Don't be limited by the stallion shares you own. "We've got a big board on the wall. We take each mare and figure out the first choice and the second choice as to which stallion we want to breed her to. It has nothing to do with the shares that we have. You have to breed your mare to the stallions that fit them. If we have a Lemon Drop Kid share, but Kitten's Joy is a better fit for our mare, we'll sell our Lemon Drop Kid season (from the share) and buy a season to Kitten's Joy. We've sold some very, very fashionable seasons this year because we didn't have the mares that matched up to the stallions."

• Regularly cull your underachievers. "After all the sales are over each year, we look at what our foals sold for and we grade our mares that way. If we have a mare that we've lost money on for three of her foals in a row, we'll probably sell her because she's not doing for us what we need her to do. We sell mares every year; we're constantly moving inventory. If you have stallion shares that are worth nothing, you give them away."

• Be flexible in your selling plan so you can take a profit when it's most likely to be available. "You want to sell at the top of the market, and we've done well selling mares once they've produced very good horses. We bought Little Bonnet (in foal to Belong to Me) for $65,000 and after she had Boys At Tosconova, we sold her (in foal to Bluegrass Cat) for $725,000. After Zing had Half Ours we sold her (in foal to Unbridled's Song) for $3.6 million (when Half Ours was a yearling). Money like that is what fuels your whole business. Selling weanlings also is part of our business plan because there may be an upside in November that won't be there next September."


Copyright © 2015 The Blood-Horse, Inc. All Rights Reserved.