Baffert Beams After Third Straight Rebel Win
by Blood-Horse Staff
Date Posted: 3/18/2012 3:54:44 PM
Last Updated: 3/20/2012 2:07:07 PM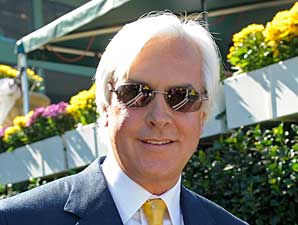 Bob Baffert
Photo: Anne M. Eberhardt
With a third straight Rebel Stakes (gr. II) victory sealed thanks to Secret Circle March 17, Hall of Fame trainer Bob Baffert was eagerly looking forward to the Arkansas Derby (gr. I) next month at Oaklawn Park.
"He's run well there and likes that track," Baffert said March 18, referring to Secret Circle. "If everything is good over the next few weeks, we will definitely come back."
The $1 million Arkansas Derby, at 1 1/8 miles, is April 14.

Secret Circle, a 3-year-old son of Eddington , produced a slightly newer running style for the 1 1/16th-mile Rebel by stalking the pace from farther behind than he'd been in his previous starts. His ability to rate was encouraging to Baffert as Secret Circle tries to prove he belongs among the top Triple Crown contenders.

"The win was exciting and the way he did it was promising," said Baffert by phone on the morning of March 18 following reports from his assistants that Secret Circle was doing well. "It was a good schooling for him and I think he should get a lot out of it, although my guys tell me he was hardly blowing when he got back."

Secret Circle races for Karl Watson, Mike Pegram and Paul Weitman, the same owners behind the first of Baffert's consecutive Rebel victors with champion Lookin At Lucky in 2010. Baffert followed up last year with The Factor then kept his Oaklawn roll going last month when he and jockey Rafael Bejarano swept both divisions of the Southwest Stakes (gr. III).
Secret Circle now has the Rebel as well.

Baffert will point Castaway, the other Southwest division winner, to the $800,000 Sunland Derby (gr. III) March 25. He also sees things with Secret Circle, who is 5-for-6 in his career, that need to be worked on back in California.

"He keeps shutting it down too early," he said. "He kind of pulls himself up and throws out an anchor. I thought he was just going to blow by (pacesetter Scatman), but he waited a little bit. We can fix that with competition and try and work that out of him."

This latest Rebel win brings Baffert's career record at Oaklawn to 13 wins in 21 starts. The Arizona native has won with four of his last five starters in Hot Springs, with the lone loss coming when The Factor finished seventh in the last year's Arkansas Derby. In the last three years, Baffert is 10-for-13 with three Rebel wins, three Southwest victories, an Azeri Stakes (gr. III) tally, and two other six-figure stakes wins.

Meanwhile, the rest of the dozen Rebel entrants were doing well the morning of the race, except for seventh-place finisher Adirondack King, who developed colic late in the morning.

Nearly every runner in Saturday's $500,000 Rebel Stakes (G2) returned in good order according to their handlers Sunday morning, with the exception of MarchFore Thoroughbreds Adirondack King who developed colic late this morning.

Adirondack King had been doing well, trainer John Servis reported, but then began to show signs of colic around 8 a.m. He was treated with the usual medications to relieve the condition.

Hall of Fame trainer D. Wayne Lukas, feeling good about the fast-closing second for Optimizer, was playfully jawing with Pegram immediately after Secret Circle's narrow win. Lukas offered congratulations, but noted "you know the races get longer from here."

On the flip side was the disappointment trainer Mike Lauer was feeling for owners James and Mary O'Grady and their third-place finishing Scatman. A game runner-up to Secret Circle in the second division of the Southwest Stakes last month, Scatman took a clear lead into the stretch of the Rebel, only to flatten out in the final furlong.

"It felt like we were going to run away once we put them away," said Lauer, who reported the colt was fine overnight. "He ran good but he didn't run great. He kind of gawked a bit and didn't finish. We will give him a week, see how he does and see where we go from here."
Copyright © 2015 The Blood-Horse, Inc. All Rights Reserved.