Mood Upbeat at OBS March Juvenile Sale
by Deirdre B. Biles
Date Posted: 3/12/2012 12:32:03 PM
Last Updated: 3/13/2012 3:40:59 PM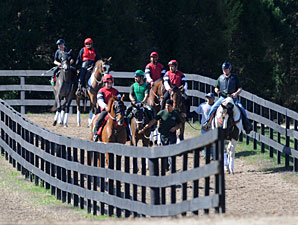 OBS March Sale
Photo: Joe DiOrio
The Ocala Breeders' Sales Co. select sale of 2-year-olds in training kicks off its two-day run March 13 in Central Florida. Here's what several participants had to say about the auction and the outlook for its success:
Terry Finley, West Point Thoroughbreds: "It's going to be a good sale. There seem to be quite a few really good horses here and if you don't buy horses, you're out of the (racing) game. It feels like things are starting to lighten up with the economy a little bit. I don't think the racing industry as a whole is as bleak as it was. (The video-lottery-terminal casino at) Aqueduct and all that stuff have really helped people. I know for us, we're getting more inquiries than we've ever had, even in the go-go times of the mid-2000s. The indicators are all positive so far."
David Scanlon, Scanlon Training Center: "I think it will be a good sale. They have the proper amount of horses to draw a decent crowd. People come here thinking there is a horse here for everybody. We've got horses on the lower end, horses in the middle, and, of course, some really nice high-end horses. The foal crops are smaller, so nearly all the sale catalogs are smaller. But this one is still large enough that it will attract a large group of buyers."
J.J Crupi, Crupi's New Castle Farm: "I feel very up. I think that we've had many, many, many lookers and they all seem very positive. They like the horses that we've been showing them, so that would make me think we're going to have a good sale. Two or three years ago, people would just be here looking and they didn't really have a client. But I think they definitely have clients this year. The economy seems to be getting a little bit better."'
Becky Thomas, Sequel Bloodstock: "OBS has proven time and time again that it can sell the $50,000 to $100,000 horses all day long (in March). It has also shown that it can sell the big-time horse. This is a huge cost-effective sale for me because I can sell right here at home. My farm is located five minutes from here."
Copyright © 2015 The Blood-Horse, Inc. All Rights Reserved.